TIMESOFINDIA.COM | Jun 9, 2020, 17:56 IST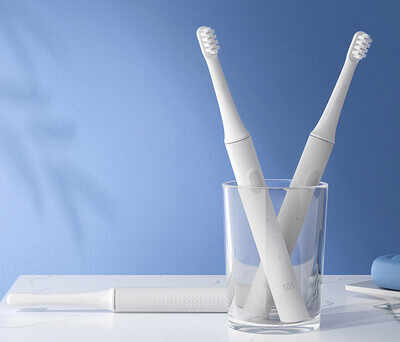 NEW DELHI: As promised Chinese smartphone maker
Xiaomi
has launched its new
Mi Electric Toothbrush T100
in India. The Mi Electric Toothbrush T100 is available for crowdfunding on mi.com at Rs 549 with the funding goal of 2500 units. The company has also mentioned that it will start shipping from July 15 on the successful completion of the crowdfunding.
The Mi Electric toothbrush T100 is powered by a customised high-frequency motor that promises to produce 18000 vibrations per minute and helps in the effective removal of bacteria, food particles, and stains. Xiaomi also claims that an electric toothbrush can disrupt plaque and helps in keeping the gums healthy.
The Mi Electric Toothbrush T100 has flexible, thin-tipped bristles which are said to be 93% thinner as compared to the normal nylon bristles. The toothbrush also features Dual-Pro brush modes and an EquiClean Auto Timer which goes off after minutes. Along with this, the electric toothbrush also pauses after every 30 seconds in order to remind the user to switch sides.
The Mi Electric Toothbrush T100 also comes with an IPX7 rating which makes the device waterproof and it also comes with a storage case. The device also has an LED indicator that alerts the user about the battery charging status. The electric toothbrush claims to offer 30 days of battery backup in a single charge.
This is the second electric toothbrush launched by the company this year. In February Xiaomi launched the Mi Electric Toothbrush T300 in the country. Priced at Rs 1299, the company claims that the Mi Electric Toothbrush T300 comes with magnetic levitation sonic motor which promises to produce 31000 vibrations per minute.

more from times of india news