NEW DELHI: India overtook Britain on Wednesday to emerge as the country with the fourth-highest number of Covid fatalities in the world. With the second-highest single-day tally of 934 fresh deaths recorded on Wednesday, the total number of casualties crossed the 47,000-mark to 47,065. India has climbed to the number four position — behind US, Brazil and Mexico — 13 days after it overtook Italy to emerge as the fifth worst-affected country in terms of total Covid casualties. Britain's casualties, according to worldometer, as on Wednesday night India time stood at 46,706.
However, India's case fatality rate of 2 is much lower than that of the other countries, particularly the UK which has the highest CFR of 14.9. Similarly, India's deaths per million stand at 34, which is much lower than the figure of other countries, which is in the range of 400 to 700. At 688, the UK has the highest deaths per million, followed by the US where the figure stands at 508.
Of the total 47,065 fatalities, 10,551 or 22% were recorded in August alone, highlighting the rapid increase in daily death figures in the last few days.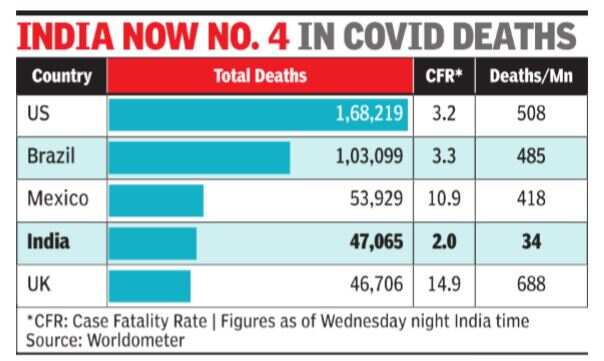 India also registered its second highest single-day peak at 64,610 fresh cases, taking the country's caseload to 23,91,650. The record daily peak was registered on August 8 with 65,410 fresh cases. On the positive side, 16,90,097 people have recovered from the virus.
Maharashtra reported its single highest daily cases and deaths at 12,712 and 344, respectively. The state's caseload reached 5,48,313 while the cumulative toll is 18,650. The state also registered the highest number of discharges in a single day at 13,408. Total discharges in Mumbai have crossed the one-lakh mark.
Tamil Nadu added 119 deaths and 5,871 fresh cases on Wednesday, taking the cumulative toll to 5,278 and the case tally to 3,14,520. Another state to register deaths in triple digits was Karnataka, where 113 people died, taking the state's cumulative toll past the 3,500-mark to 3,510.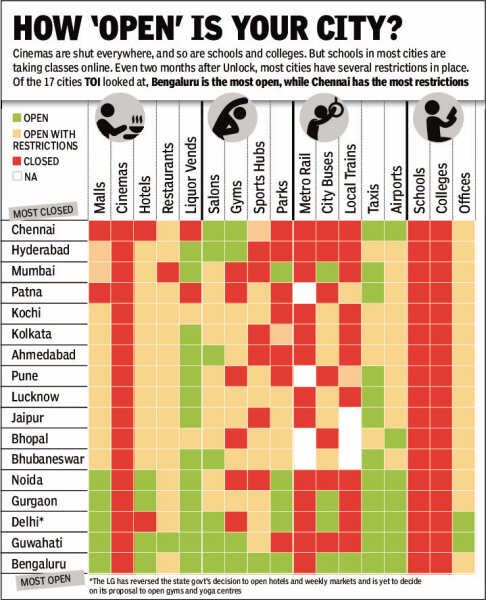 Karnataka also recorded its highest single-day peak with 7,883 people testing positive. Odisha with 1,876 fresh cases and Puducherry with 481 also recorded their single-day peaks. Another southern state to record high casualties on Wednesday was Andhra Pradesh, where 93 people died, taking the state's toll to 2,296. As many as 9,597 patients tested positive for the virus. Even though the daily fresh cases have come down below the 10,000-mark in the last three days, the number of deaths continues to be on the higher side.