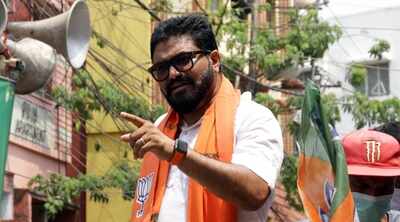 KOLKATA: Former Union minister and sitting Asansol MP Babul Supriyo put an end on Monday to speculation about his political career by sticking to his decision to quit politics. He will, however, continue to remain an MP.
Supriyo did not clarify whether he was going to contest the 2024 Lok Sabha polls. "You will not see Babul as a politician any more. Unfortunately, I cannot back out from the decision of quitting politics as I have made up my mind already," he said after emerging from the home of BJP national president J P Nadda in New Delhi on Monday.
Thanking Union home minister Amit Shah and Nadda for trying to dissuade him from quitting politics, Supriyo said: "I am changing my decision and remaining an MP." Supriyo said he would continue to accept a salary in the absence of any other "source of income" but would "relinquish" his New Delhi bungalow and security cover. "I will now shift back to Mumbai or Kolkata," he said.

FacebookTwitterLinkedinEMail