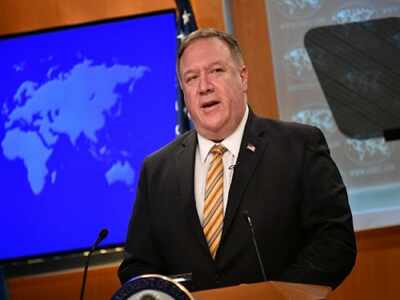 NEW DELHI: US secretary of state Mike Pompeo on Thursday said America will ensure that its forces are positioned appropriately to counter China's People's Liberation Army, citing threat from the Chinese Communist Party to India, Vietnam, Indonesia, Malaysia and the South China Sea.
This would mean that there would be fewer US resources at certain places, Pompeo said at the Brussels Forum virtual conference.
Saying he has talked with the EU foreign ministers this month about China's border confrontations with India, Pompeo added he got feedback on the threats the PLA posed to its peaceful neighbours.
Pompeo said he got a lot of feedback on China's Communist Party also. "Laid out a series of facts that talked about People's Liberation Army's provocative military actions and China's continued aggression in the South China Sea," he said.
The statement comes amid the border tension between India and China in eastern Ladakh.
Last week, Pompeo had criticised the Chinese Army for "escalating" the border tension with India and militarising the strategic South China Sea. He also described the ruling Communist Party of China as a "rogue actor."
Earlier, the US secretary of state said that he had a very frank discussion with his Chinese counterpart Wang Jiechi about the "unprovoked aggression" by Beijing on a number of fronts.
During the meeting in Hawaii last week, Pompeo said he also pressed for "more transparency" from China on the outbreak of the coronavirus pandemic for the good of the world.
"I met with Yang Jiechi last week in Hawaii. We had a very frank discussion about the Chinese Communist Party's unprovoked aggression on a number of fronts and I pressed him for more transparency on Covid for the good of the world," Pompeo told reporters at a press conference.
In a scathing attack on the Chinese government, Pompeo said that the Communist Party of China wants to undo all the progress the free world has made through institutions like the NATO and adopt a new set of rules and norms that accommodate Beijing.
"The PLA (People's Liberation Army) has escalated border tensions with India, the world's most populous democracy. It's militarising the South China Sea and illegally claiming more territory there, threatening vital sea lanes," Pompeo said, a day after he expressed deep condolences to India on the death of 20 soldiers in violent clashes with the PLA troops at the Galwan Valley in Ladakh on June 15.