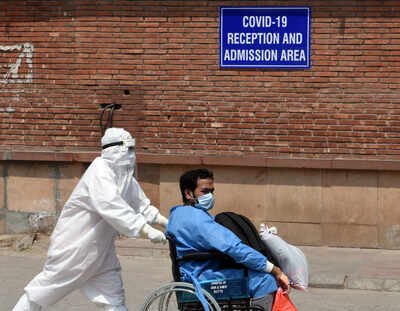 NEW DELHI: Delhi chief minister Arvind Kejriwal on Monday stated that a 'plasma bank' will be established in the national capital to help treat COVID-19 patients.
Here is all you need to know about plasma therapy and its effectiveness —
Where will be 'plasma bank' set up in Delhi and how will it work?
The 'plasma bank' will be set-up at the Institute of Liver and Biliary Sciences in Delhi. Anyone who needs plasma will need a recommendation from a doctor. People can take plasma from relatives and known people.
"It will start in two days. The most important thing is that those who have been cured of coronavirus will have to come forward and donate plasma. People are still doing but now there will be a system made for this," Kejriwal said.
With a recovery rate of over 58%, more and more people must volunteer to donate their plasma, the CM added.
What is Plasma therapy?
Plasma (the yellowish liquid component of blood) from a recovered Covid-19 patient contains antibodies that may help fight the disease when infused into the bodies of another person suffering from Covid-19. These antibodies are capable of fighting the virus that causes the illness and also helps in faster recovery.
Because it takes a few weeks for antibodies to form, the hope is that transfusing someone else's antibodies could help patients fight the virus before their immune system kicks in.
How successful is the treatment?
In Delhi, 29 Covid-19 patients received plasma therapy treatment.
"We did trials on 29 people and the results were very good. Two things happen in corona, one the oxygen level drops and the second is that respiration level increases. It was observed that if the plasma is given then it increases in the level of oxygen and respiration level also decreases," Delhi chief minister said.
The treatment is in its initial stages and doctors around the world have received mixed reports on treatment's benefits. In New York's Mount Sinai Hospital, 39 patients were treated with plasma therapy. It was observed that people who received the therapy were less likely to die than non-plasma recipients.
The Expanded Access Program showed signs of improvement in patients who were administered a single dose of 200mL.
Is it a new treatment?
Plasma therapy is a century-old remedy that was used to fight infection before modern medicine came along. In 1918, during the outbreak of flu pandemic, plasma therapy was used on patients and the then reports had suggested: "patients are less likely to die".
Is Delhi government's initiative the first such program?
Thousands of coronavirus patients have been treated with plasma therapy across the world.
In the US, Mayo Clinic is working in collaboration with industry, academic and government partners for the 'Expanded Access Program'. The program has so far attended over 38,000 patients.