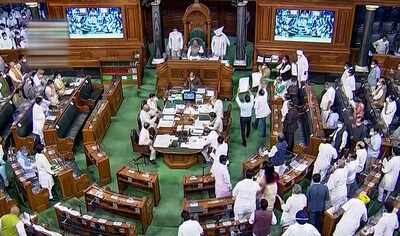 NEW DELHI: Lok Sabha's monsoon session on Wednesday witnessed unruly behaviour by opposition party MPs as they thre threw tore papers, files in the chair and also on the treasury benches targeting parliamentary affairs minister Pralhad Joshi.
As the Lok Sabha met in the morning, the House took up the Question Hour amid continued slogan-shouting by opposition members.
As the opposition protests intensified, Congress members were seen throwing papers at the Chair and Treasury benches.
Rajendra Agrawal, who was chairing the proceedings, took up matters under Rule 377.
Realising gravity of the situation, Rajendra agarwal, who was presiding in the zero hour, adjourned the house for half an our although Speaker Om Birla managed to complete the question hour amid din.
As opposition MPs mainly from Congress and TMC threw papers on the chair and also on parliamentary affairs minister, some of the ruling MPs were seen outraged and stood up.
Senior ministers including Narendra Singh Tomar, Piyush Goyal, Anurah Thakur, Joshi were seen in a huddle while another union minister Darshana Jardosh was heard saying that such "unruly" behaviour should not be tolerated and be brought to the knowledge of the people.

FacebookTwitterLinkedinEMail