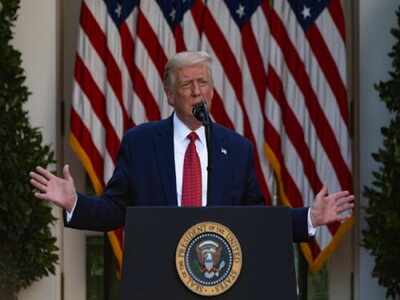 NEW DELHI: US President Donald Trump reiterated his pledge to soon sign a "very strong" merit-based immigration act that will also take care of the immigrants brought to the country illegally as children, many of whom are of Indian or South Asian descent.
Last month, Trump had suspended its H-1B visa programme, a popular choice among Indian migrants looking to work in the US, till the end of December to "create a fair, modern, and lawful system of immigration" and to create more jobs for Americans.
What will the new system look like?
Thee details of the proposal, developed by Trump senior advisor Jared Kushner, are sketchy but seeks to move the United States away from a predominantly family-based system and toward one that favours applicants with desirable labour-market attributes, to be selected using a points system.
The proposal is believed to be in line with the point-based migration system adopted by several high-income countries, such as Canada. It will include immigrants who possess extraordinary talent, professionals and those in specialized vocations, and those with exceptional academic achievement.
The new proposed system would eliminate most of the family-sponsored immigrant visas. Only spouses and children of US citizens and permanent local migrants will be eligible for migrant visas.
In Financial Year 2017, 66 per cent of new legal residents gained that status through family sponsorship, 12 per cent through employment-based category, 16 per cent received humanitarian visas, and 5 per cent gained it through diversity category.
The new plan proposed by Trump plans to drastically reduce the number of visas in the family-sponsored category. Over 57 per cent of immigrants would gain status through the economic stream, 33 per cent through family tied and 10 per cent for humanitarian reasons. The diversity stream would be eliminated in the new plan.
How will it impact Indians?
Indian diaspora in the US is four million strong and mostly consists of highly-skilled professionals.
H-1B visas help fill speciality positions at companies like Google, Apple and Facebook. Indian-Americans are some of the country's most successful and wealthiest immigrants, with a particular stronghold in Silicon Valley's startup scene.
Indians account for around three-fourth (73.9 per cent) of the total H-1B visa holders in the US.
In 2017-18, India had the second-highest number of foreign STEM students (153,879) in the US, after China (162,050).
Given these numbers, Indians are most likely to benefit from the new system, which would be based on the point-based system followed by several other countries around the world.
The decision to rescind most of the family-sponsored visas is, however, likely to harm Indian migrant families staying or looking to stay in the States.
Why was there a need for a new system?
The President had issued directions for broader reform of the H-1B visa regime that will replace the current lottery system with a merit-based system that will favour those who are offered the highest wages.
"This will drive up both wage level and skill level. It will also eliminate competition with Americans for entry-level jobs," an official said, adding that the President had also directed that all loopholes enabling outsourcing of jobs should be closed.
The reforms will ensure that jobs go to those who are paid the highest wages and America gets the best and brightest talent, the official added.
Kushner believes that the new system that attracts talented and meritorious people from around the world would create $500 million in tax revenues over 10 years.
Kushner argued that the American immigration system is outdated and merely 12 per cent of people become legal immigrants through a merit-based system. He cited examples of other countries such as Canada where it is 53%, New Zealand at 59%, Australia at 63% and Japan at 52%.
The measure to suspend H-1B is likely to "free up" 525,000 jobs for the American workers.
Critics of the new system
Critics warned that driven by what they call the Trump administration's protectionist impulses, the United States could purge some of its most talented workers, cutting into the vibrant multiculturalism that has made the United States such an attractive destination for decades.