Trinamool Congress
has slightly improved its position in the last fortnight despite a high-voltage campaign by BJP and is likely to win 160 seats in the 294-member assembly, a Times Now opinion poll said on Wednesday.
The poll also projected a greater sweep for DMK-led
alliance
in
Tamil Nadu
than earlier forecast and NDA and Left retaining office in
Assam
and
Kerala
respectively.
The poll by CVoter had a fortnight back projected 154 seats for TMC and 107 for BJP in West Bengal. The latest poll puts those numbers at 160 and 112, both parties gaining at the expense of Left-Congress-ISF alliance whose projected seats have dropped from 33 to 22.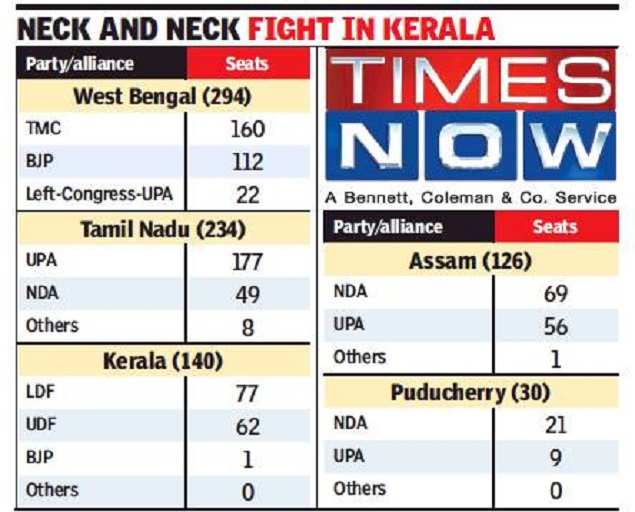 In Tamil Nadu, DMK-led alliance is now projected to win 177 of the 234 seats, a three-fourths majority, up from the 158 projected a fortnight back. AIADMK-led alliance is forecast to win just 49 seats. In Kerala, LDF is still projected to beat the state's trend of alternating between the two fronts winning 77 of the 140 seats, but if the poll is right the race has tightened a little. The last poll had forecast 82 seats for LDF.
In Assam, there is little change from the previous poll, BJP-led alliance being tipped to win 69 seats in the 126-member assembly and Congress-led alliance 56 seats. In
Puducherry
, an NDA win appears even more comfortable with 21 of the 30 seats if the poll turns out right.