MEERUT: A CBSE topper who charted her way from a school in Bulandshahr to a
top college
in Boston was killed in a
road accident
on Monday morning. The family of 19-year-old Sudeeksha Bhati, daughter of a small tea shop owner and marginal farmer, said she was being harassed by two men on a Bullet when the accident took place. Police, after initially denying the claim, formed an SIT later on Tuesday to investigate the allegation.
Two years ago, Sudeeksha had secured a full scholarship to
Babson College
in Massachusetts after topping the district with a score of over 98% in her Class 12 boards. Her trajectory was not without challenges — the Vidya Gyan School student had to drop out briefly in 2009 because the family didn't have enough resources to keep her studies going. But she persevered. In March, halfway into her four-year undergraduate business programme, she had come home after the Covid-19 shutdown in the US. She was set to go back later this month.
On Monday, she was on her way to visit a relative, riding pillion on a bike. "Two men on a Bullet riding next to us started harassing her. While performing stunts, they overtook us. I lowered my speed but the biker applied brakes all of a sudden. We rammed into the bike, my niece fell off and was hit in the head," said Satendra Bhati, Sudeeksha's uncle, on Tuesday. The accident took place near the Chirora intersection on Shyana Road in Aurangabad. She died on the spot. Satendra called her father,
Jitendra
, around 9am to give him the tragic news.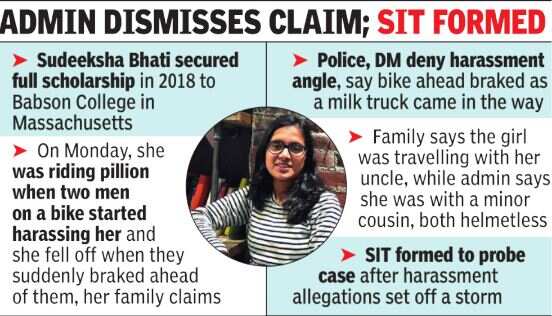 Police and the district administration, however, had another version. When the case had been reported on Monday, police had registered only an accident and closed the books. "We were going at a speed of 30kmph… A Bullet raced ahead of us and applied brakes abruptly. Didi fell off the bike, nothing happened to me," her cousin, Nigam Bhati, a minor, said in a video statement tweeted by police.
The biker who was ahead of them sped off, police said, and neither Sudeeksha nor her cousin were wearing helmets. She died with head injuries, Bulandshahr SP (city) Atul Srivastava said. "After the accident, neither the cousin nor any witness alerted us about any act of harassment," he added. Aurangabad police station SHO
Subhash Singh
said there was no
CCTV
footage of the accident spot. "A person called Hemant Sharma said he had witnessed the accident. Others also told us what they saw. The Bullet ahead of the bike stopped suddenly when a milk truck came from the opposite direction. The road doesn't have a divider," he added.
Bulandshahr district magistrate Ravindra Kumar also dismissed her uncle's statement. "Some claims are being made that Sudeeksha's uncle was driving the bike. It is absolutely false. We have seen her cousin's video statement. Aurangabad inspector Subash Singh spoke to her maternal uncle, who confirmed that her cousin was driving," he said. About the harassment allegation, he added, "An inquiry has been initiated. As of now, there is no evidence. Action will be taken on the basis of the findings."
By evening, a three-member special investigation team (SIT) had been set up by the police. "An SIT under circle officer Deeksha Singh, with two crime branch inspectors, has been set up to look into the family's allegations. The report will be filed in three days," IG (Meerut range) Praveen Tripathi said.
Sudeeksha's family, meanwhile, is preparing to file a fresh complaint in the case. "Based on the complaint, an FIR will be registered," a senior police officer in Bulandshahr said.
The harassment allegations stirred a storm online — #JusticeForSudeeksha was trending on Twitter for a few hours. The National Commission for Women has written to UP Police, seeking a "swift probe". A group of advocates held a prayer meeting for Sudeeksha in Greater Noida's City Park area.
Amid the confusion and counter-statements, BSP chief Mayawati condemned the incident. "Promising student Sudeeksha Bhati, travelling on a bike with her uncle in Bulandshahr, lost her life because of harassers. It is sad, shameful and condemnable. How will our daughters progress? BSP demands that the UP government take strict action against the culprits," she tweeted. Dadri legislator from BJP, Tejpal Nagar, met Sudeeksha's family and offered aid of Rs 1 lakh himself, while seeking a compensation of Rs 25 lakh from the state government. Later in the day, Sanjay Singh, in charge of AAP's UP unit, also visited her family.
(Additional reporting by Shikha Salaria)