Written by Arun Janardhanan | Chennai | Updated: June 16, 2020 2:38:55 am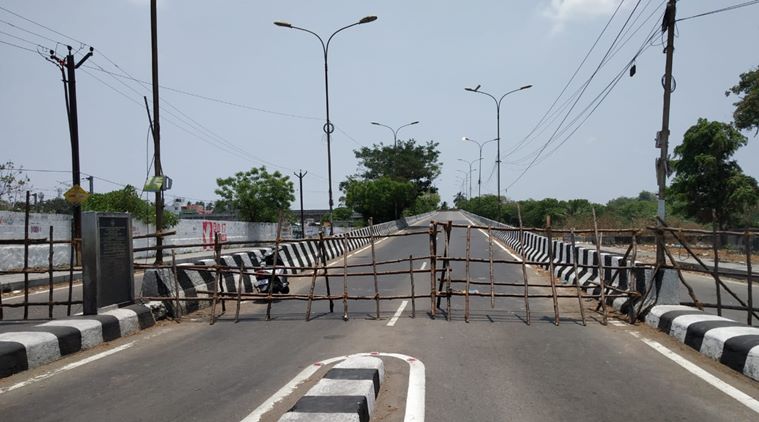 Officials said, only essential medical services, private vehicles for emergency use, government offices and banks with a staff strength of 33 per cent, and shops selling essential items, will be allowed during the lockdown. (File photo)
DAYS AFTER Tamil Nadu Chief Minister E K Palaniswami dismissed reports of an impending lockdown in the state as "false news", his government Monday declared an "intense lockdown" in four districts, including Chennai, for 12 days from June 19 to 30 to curb the surge in Covid cases.
Following a state cabinet meeting and a briefing by an expert advisory panel, Palaniswami said the decision to impose the lockdown in Chennai, and the neighbouring districts of Chengalpattu, Kancheepuram and Thiruvallur, was "based on the recommendation of medical and health experts".
In these four districts, officials said, only essential medical services, private vehicles for emergency use, government offices and banks with a staff strength of 33 per cent, and shops selling essential items, will be allowed during the lockdown.
While public transport will remain shut, officials said domestic air operations at the Chennai airport will not be affected. Those travelling from and to these four districts by road can do so only after obtaining a permit from the government, they said. Private vehicles and autos will be allowed only for emergencies.
Officials said vegetable and grocery shops, and fuel stations, will be open between 6 am and 2 pm, while restaurants will be allowed only takeaway services between 6 am and 8 pm. The popular Amma canteens run by the government and community kitchens run by local bodies will be allowed to function.
The government's decision followed a massive surge in cases in the four districts since the emergence of a cluster of cases at the Koyambedu vegetable market in Chennai early last month.
While announcing the lockdown, Palaniswami promised cash support of Rs 1,000 to all ration card holders in the areas under lockdown. He said that a similar amount will be handed over to all members of unorganised and other welfare boards in these areas.
The latest move includes "complete lockdowns" on two Sundays (June 21 and 28), when only milk supply, hospitals, pharmacies, ambulance services, emergency and funeral hearse vans, and private vehicles used for medical emergencies, will be allowed.
On Friday, denying reports about a lockdown, Palaniswami had said that "false news was being spread about the government planning to impose intense lockdown measures to contain the spread of COVID-19." He had also warned that "stern legal action will be taken against those who spread such rumours".
Officials said the government changed its stance after Monday's briefing by the expert committee, comprising doctors and scientists tracking the outbreak, and their recommendation of a "more stringent" lockdown for Chennai.
The committee recommended strict quarantine norms for the city and its most vulnerable areas, and asked the government to ensure adequate number of beds, oxygen supply and key equipment like pulse oximeters.
The committee asserted that the spike was expected and warned that the state may witness a second wave as in China. "Possibly the only way before us to arrest the spread is by ensuring hand hygiene, use of masks and social distancing," said Dr V Ramasubramanian, a senior infectious disease expert, who is a member of the committee.
📣 The Indian Express is now on Telegram. Click here to join our channel (@indianexpress) and stay updated with the latest headlines
For all the latest India News, download Indian Express App.
© The Indian Express (P) Ltd