MUMBAI: Serum Institute of India (SII) and Bharat Biotech (BB) are seeking higher prices for Covid-19 vaccines from the Centre amid concerns that the cost of Covishield and Covaxin shots in private hospitals is already high.
The Centre's procurement price has been in the range of Rs 150-200 per jab, for the orders placed with the companies from January onwards. Both companies recently sought a price increase, arguing that the current government-procurement price is "unsustainable", especially in line with the substantial investments that have gone towards producing vaccines. They have argued that vaccine manufacturing is capital-intensive, complex and specialised process, and undertaken with "significant financial risk", sources privy to the discussions told TOI.
In April, SII CEO Adar Poonawalla had said that the company is providing the shot at a "subsidised" rate of around Rs 150 to the government, significantly lower than what it charges for exports. He suggested the Centre should increase the prices as the company needed to invest in capacity addition, and had also sought Rs 3,000 crore to ramp up capacity.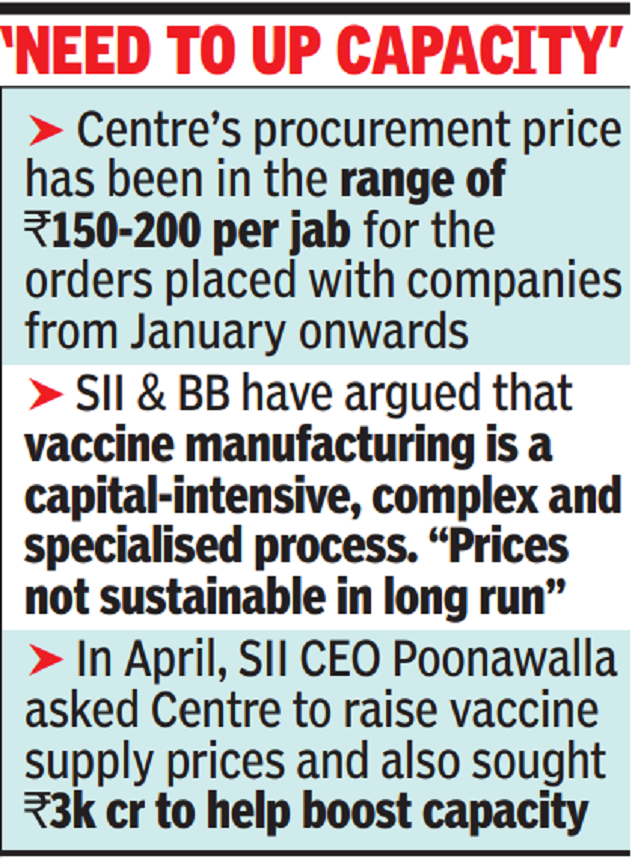 The Union health ministry announced on June 8 that it had placed an order with SII for 25 crore doses of Covishield, and with Bharat Biotech for 19 crore doses of Covaxin. It said that the 44 crore vaccine doses will be available till December, and 30% of the advance payment has been released to both the companies. The pricing per unit of the latest order has not been made available.
On Tuesday, Bharat Biotech said the weighted average price of Covaxin for all supplies realised by the company is less than Rs 250 per dose. "The supply price of Covaxin to the government at Rs 150 per dose is a non-competitive price and clearly not sustainable in the long run," the statement added.
With the policy tweak recently, revenues of the manufacturers will be impacted, with the Centre procuring 75% of their output. Earlier, their realisations would have been higher on account of the states paying two to three times the central-government procured price.
Earlier, SII received nearly Rs 160 per dose for Covishield while Bharat Biotech's Covaxin was procured at around Rs 210 per dose. While in the first order in January, the government procured 110 lakh doses of Covishield at Rs 200 per dose (excluding taxes) while 55 lakh doses of Covaxin worked out to Rs 206 per dose.