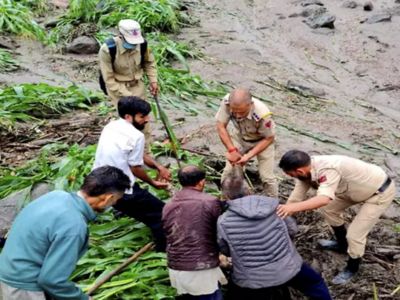 Police, Army and State Disaster Response Force (SDRF) during a search (PTI)
JAMMU: Seven people died and many are feared missing in Honzar village of J&K's Kishtwar district as a cloudburst swept away houses, a ration depot, a bridge and other properties early Wednesday.
The remote village is a three-hour walk from the nearest road, but rescue teams from the Army, police and State Disaster Response Force (SDRF) swung into action and reached the spot in time to save many lives.
Officials said the cloudburst struck Honzar village in Dacchan tehsil around 4.30am. Seventeen people injured in the incident were rescued while over 20 people are still missing, Kishtwar district development commissioner Ashok Kumar Sharma said.
Referring to similar incidents in other parts of the district, Sharma said two cloudbursts struck the remote Lambard area the previous night, but no loss of life was reported. He said 60 families were evacuated from the Paddar area in the wake of incessant rain, which posed a threat to their homes. Flash floods were reported in Machail, Paddar and Bunjwah in Kishtwar district.
Commandant general V K Singh of the SDRF said, "One of our SDRF teams from Kishtwar has reached the affected village and two more teams are on their way from Doda and Udhampur districts. Two SDRF teams are waiting for the weather to improve to be airlifted from Jammu and Srinagar to join the rescue mission." He added that a NDRF team from Ludhiana in Punjab is also on the way to Kishtwar.
Jammu-based defence spokesperson Lt Col Devender Anand said, "Two Army columns have been mobilised to assist the civil administration in the rescue operations. While the first Army column was mobilised early this morning and joined the rescue operation, the second column will be reaching shortly."
Union minister and local MP Jitendra Singh said he had spoken to the district magistrate and Air Force authorities and asked them to airlift the injured as and when required.

FacebookTwitterLinkedinEMail