TNN | Oct 9, 2020, 02:47 IST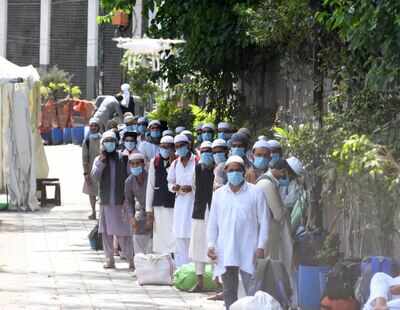 The Tablighi Jamaat congregation in Delhi's Nizamuddin was blamed for coronavirus spread (File photo)
NEW DELHI: The Supreme Court on Thursday pulled up the Centre for allowing a junior I&B ministry official to file a "nonsensical" affidavit, which informed the court that it was impossible to act on the basis of Jamiat Ulama I-Hind's plea for gagging the media from reporting that Tablighi Jamaat congregation in Delhi's Nizamuddin in led to spread of Covid in many parts of India.
Jamiat, through advocate Ejaz Maqbool, had petitioned the apex court saying false propaganda was unleashed by circulating fake news about the Tablighi Jamaat on social media, TV and print media to singularly target the Muslim community as a whole and alleged that the government remained a mute spectator instead of taking action under the law against those circulating fake news to spread communal hatred.
A bench of Chief Justice S A Bobde and Justices A S Bopanna and V Ramasubramanian took exception to the affidavit filed by under-secretary Sonika Khattar and told solicitor general Tushar Mehta, "The government cannot treat the court this way. The affidavit is filed by some junior officer. We find it extremely evasive. It does not make any effort to address the issue (raised by the petitioner) and says no particular incident of violation of programme code is pointed out by the petitioner."
When the solicitor general said the media exercised the right to free speech and that a blanket ban or gag order on reporting on any kind of issue was not advisable, the Chief Justice of India-led bench said, "Freedom of speech is the most abused freedom these days."
Though the solicitor general tried to make amends by saying affidavits before the Supreme Court should always be filed by a senior officer, the bench said, "The new affidavit has to be filed by the secretary of the department. He must tell us what he thinks of the issue and not nonsensical things said in the present affidavit. It also should list all the action taken in the past."
The bench asked the solicitor general whether the government had a mechanism to deal with grievances of citizens against circulation of fake news in the media. "We might send all these petitions there if there exists a mechanism to address complaints in such issues," the bench said and give two weeks to the government to file a fresh affidavit.

more from times of india news