Sachin Pilot and Ashok Gehlot at AICC headquarters in New Delhi (Express Photo by Amit Mehra/File)
Rajasthan Government crisis Live Updates: A day after Congress sacked him from the Rajasthan Cabinet, all eyes are now on rebel Sachin Pilot's next move. Pilot, who was shown the door after he failed to attend the CLP meetings for two consecutive days, is understood to have the support of at least 18 legislators. Pilot's removal has set the stage for another battle in Rajasthan — one that has all the signs of a protracted legal and technical fight.
The Congress has indicated as much: it has or is in the process of moving a petition to Speaker C P Joshi, seeking disqualification of rebel MLAs. Sources said Gehlot and AICC observers Ajay Maken and Randeep Surjewala held many rounds of discussions with Abhishek Singhvi, party leader and lawyer, to draw up a plan for the legal battle. At the same time, the threat of disqualification, sources said, can be used to try and bring back some of the MLAs from the Pilot camp. And perhaps this is why the Congress is not willing to reveal whether it has moved the petition.
Even as the political crisis in the state deepens, Rajasthan BJP unit has thrown its hat in the ring and will meet today to discuss the further strategy. Former chief minister and senior BJP leader Vasundhara Raje is expected to arrive in Jaipur today to attend a crucial strategy session of the party.
Live Blog
Sachin Pilot dropped as Rajasthan Deputy CM and state Congress chief; BJP meeting today; At least 100 MLAs show support to Ashok Gehlot. Get latest updates on Rajasthan political crisis here.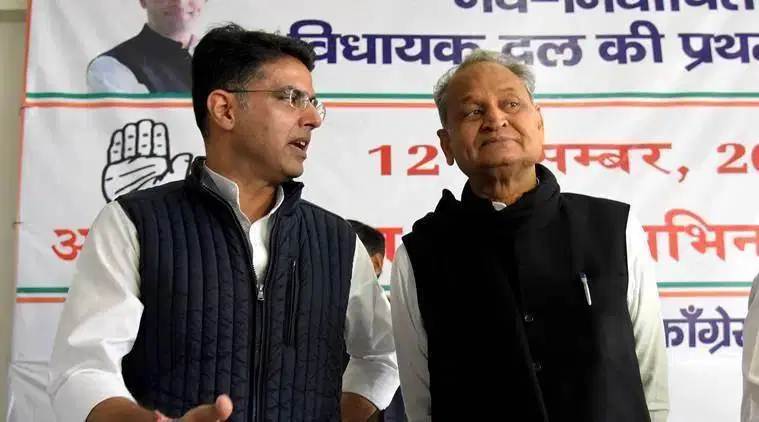 Rajasthan CM Ashok Gehlot with Sachin Pilot (File)
Three days after the showdown between Chief Minister Ashok Gehlot and his deputy Sachin Pilot triggered a crisis in Rajasthan, the Congress moved swiftly on Tuesday, removing Pilot from both his posts — as deputy chief minister and state PCC chief.
The party also cracked the whip on Pilot's loyalists: Vishvendra Singh and Ramesh Meena were removed from the state cabinet, and the state presidents of the Youth Congress and Seva Dal were replaced. The decision was announced after Pilot and his MLAs skipped the Congress Legislature Party (CLP) meet in the morning — the second in two days — at a hotel on the outskirts of Jaipur, where the Gehlot camp is keeping Congress and other supporting MLAs.
Soon after he was sacked, Pilot tweeted: "Satya ko pareshan kiya ja sakta hai, parajit nahi (Truth can be harassed, not defeated)." In another tweet at night, he said: "My heartfelt thanks and gratitude to all those who have come out in my support today."
Later in the day, Gehlot chaired a cabinet meeting at his residence. Sources said he discussed cabinet expansion and allotment of portfolios – nine departments are now without a minister.
Education Minister and OBC leader Govind Singh Dotasra has been made the new PCC chief; Ganesh Ghogra has replaced Ladnun MLA Mukesh Bhakar as the state IYC chief; Hem Singh Shekhawat has replaced MLA Rakesh Pareek as the state president of the Congress Seva Dal.
Late in the night, Rajasthan Congress in-charge Avinash Pande dismissed the entire state party unit, and said all appointments would be made afresh. He also issued a gag order on party leaders, barring them from communicating with the media without permission from the new PCC chief.
© IE Online Media Services Pvt Ltd