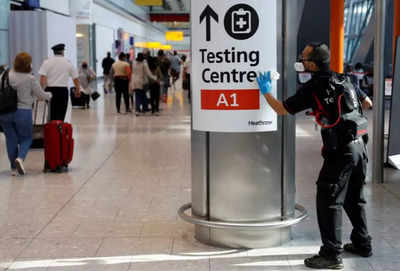 LONDON: The UK government's new travel rules, which do not recognise people vaccinated in India as being "fully vaccinated", have been blasted as "offensive", "bizarre" and "racist". The new rules mean people vaccinated in India will still have to home quarantine for 10 days in the UK when those vaccinated in scores of other countries will not.
Aware of the backlash on social media after Congress leader Shashi Tharoor pulled out of a Cambridge Union debate and his book launch events in Britain to protest against the curbs, the UK said it was willing to engage with India to resolve the matter.
A British high commission spokesperson told TOI: "We're engaging with the Indian government to explore how we could expand UK recognition of vaccine certification to people vaccinated by a relevant public health body in India."
Rajya Sabha MP Anand Sharma said the UK government's decision to not recognise fully vaccinated Indians is "discriminatory, racist and deserves the strongest condemnation".
On September 17, the UK had announced new rules for international travel to replace the current system of red, amber and green. Whilst the red list rules will remain same regardless of vaccination status, the rules for people arriving in the UK from "rest of the world" — including India — will differ depending on whether the traveller is "fully vaccinated" or not.
Those deemed as "fully vaccinated" won't have to home quarantine for 10 days. But people vaccinated in India will be treated as "unvaccinated" as UK considers fully vaccinated to be those who have been vaccinated under an approved vaccination programme in the UK, Europe or the US, or who were vaccinated in 17 other nations, including Australia and Israel. India and many countries aren't on that list.
Those vaccinated in India will have to home quarantine for 10 days, take a pre-departure Covid test and take tests on second and eighth day.

FacebookTwitterLinkedinEMail