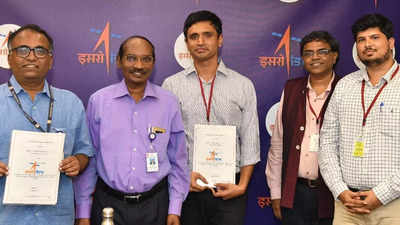 BENGALURU: In line with the government's ambitions of encouraging private enterprises in the space sector, industry activity is gaining pace with two key memoranda of understanding, one lab opening in just one week, while another firm is readying to launch its first satellite.
Two space startups, Skyroot and Agnikul — both building rockets/launch vehicles — have signed important agreements with the Indian Space Research Organisation (Isro) that will allow them to gain access to the space agency's facilities and expertise towards development and testing of systems, while Bellatrix Aerospace opened a new lab. All three developments happened between September 11 and 17.
While the first two startups, Skyroot and Agnikul are based in Hyderabad and Chennai, respectively, Bellatrix is Bengaluru-based and a fourth company, Pixxel, also from Bengaluru, is all set for launching its first satellite on a PSLV.
The two MoUs, as per the Department of Space (DoS), will allow Skyroot and Agnikul access to Isro facilities and expertise towards the development and testing of subsystems/systems of space launch vehicles. The two have become the first firms to sign such agreements with Isro, which, as part of the reforms initiated by the Centre, will see more sharing of expertise and infrastructure in the future.
The MoUs will enable companies to undertake multiple tests and access facilities at various Isro centers for testing and qualification.
Agnikul can test its single piece 3D-printed semi-cryo engine and other systems, while Skyroot will test systems as part of its launch vehicle development programme.
K Sivan, secretary, DoS, told TOI earlier this week: "These agreements have been drafted after careful examination of what these companies are doing. This is only the beginning and we will see a lot more from the private enterprises in the coming months."
Sivan also inaugurated Bellatrix's privately-funded propulsion lab which has in-house facilities for development and testing of electric and green chemical propulsion technologies. The state-of-the art facility which houses equipment such as integrated thermal high vacuum test facilities, catalytic reactors, propellant preparation facilities, specialised high temperature coating facilities, etc.
Pawan Goenka, chairman, Indian National Space Promotion and Authorisation Center (IN-SPACe), while appreciating Isro's readiness to share infrastructure and technology, said: "The first few agreements are always important. I am confident these will pave way to more."
Aside from these, Pixxel, which was to launch India's first private Earth imaging satellite in February but took the satellite back to its lab citing software issues, is now ready for the launch.
A senior official from New Space India Limited (NSIL) confirmed this to TOI, and said: "The Pixxel satellite will be launched on the next PSLV mission. It will be through a commercial arrangement." The next PSLV mission will see an Isro Earth observation satellite as the main payload and the Pixxel satellite will piggyback.
Pixxel, which is looking to launch a constellation of satellites to make available satellite imagery for a variety of applications, had initially decided to launch from Russia, but signed an agreement to launch on a PSLV in December 2020.

FacebookTwitterLinkedinEMail