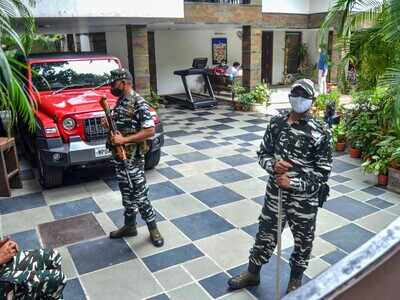 IT raid on Dainik Bhaskar owner's premises
NEW DELHI: The Income Tax department on Saturday claimed to have found "fictitious transactions" of Rs 2,200 crore two days after conducting raids at multiple offices of Dainik Bhaskar media group.
"The quantum of income escapement using this (shell companies and bogus expenditures) modus operandi, detected so far, amounts to Rs 700 crore spread over a period of 6 years. However, the quantum may be more as the group has used multiple layers and investigations are being carried out to unravel the entire money trail," I-T department said in a statement.
"These involve violation of S.2(76)(vi) of Companies Act and Clause 49 of Listing Agreement prescribed by SEBI for listed companies. Application of Benami Transaction Prohibition Act will also be examined," it added.
The tax department further claimed that cyclical trading and transfer of funds among group companies "engaged in unrelated businesses" to the tune of Rs 2200 crore has also been found.
"The enquiries have confirmed that these have been fictitious transactions without any actual movement or delivery of goods. The tax effect and violation of other laws is being examined," it said.
The IT Department conducted raids across several states against the Dainik Bhaskar group as well as Uttar Pradesh-based TV channel Bharat Samachar for alleged tax evasion, drawing a sharp response from several quarters, including an uproar in Rajya Sabha.
The media group, on the day of the raids, had posted a message on its website saying the government was scared of its true journalism.
From bodies in river Ganga to Corona deaths, the group that brought the real numbers in front of the country is being raided by the government, it alleged in a message in Hindi.
"I am independent because I am Bhaskar, Only the readers' will matters in Bhaskar," it had said.

FacebookTwitterLinkedinEMail