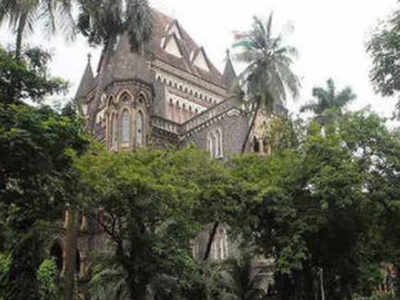 Bombay high court (File photo)
MUMBAI:Central bureau of investigation (CBI) on Monday argued that its mandate from the Bombay high court and the Supreme Court includes probing reinstatement of Sachin Waze as it is part of "extortion" allegation. Seeking dismissal of a quashing petition filed by the Maharashtra government, before the HC, CBI counsel also stated and wondered how "home minister (Anil Deshmukh) enjoyed a rapport with an assistant police inspector (API) level officer."
Solicitor general Tushar Mehta appearing for CBI argued that it usually doesn't happen that an API has free access to a home minister. The allegation in former Mumbai police chief Param Bir Singh's letter to Maharashtra chief minister Uddhav Thackeray on March 20 was that Waze was asked by Deshmukh to collect Rs 100 crore a month from the many restaurants and bars.
Deshmukh has independently filed a petition to quash his prosecution as being "biased and dubious." It is pending.
The HC bench of justices SS Shinde and NJ Jamadar asked the CBI who comprised the committee, to reinstate Waze. Mehta said, "Param Bir Singh and two others." Later the HC asked him if CBI would also investigate the committee members, Mehta said, "the problem is we are not getting papers (from the state). It is not that the investigation is just against Deshmukh or Waze, everyone including Singh will be open to be investigated. It is an issue based investigation, whether there is large scale scam of transfer and postings."
Mehta also said, "CBI doesn't hold a brief for anyone."
"Sometimes complainants can also become accused," added the SG. He said, "may be Param Bir Singh aided (reinstatement), may be he did it at someone's guidance? But what prompted a home minister to have access with API level officer."
The CBI extended its assurance to not pursue its request to the state for ex-Commissioner (SID) Rashmi Shukla's phone-tap report, other documents from police establishment till Wednesday when the HC will continue hearing a quashing petition filed by the state against two paras of CBI FIR against Anil Deshmukh.
The unnumbered paras 4 and 5 which the State wants gone refer to Waze's reinstatement as assistant police inspector last year, him being assigned most of the 'sensational cases', and alleged 'exercise of undue influence' over transfers and postings and hence, over performance of police officers' duties.
On Wednesday senior counsel Rafique Dada for State would give a rebuttal "to very serious allegations made" by the CBI.
"Look at the conduct," Mehta had argued before the HC adding, "I am pained to point out, the state is not cooperating despite the HC order. They are in contempt and thus that action also disentitles them to any quashing relief."
Mehta said, "whoever is responsible for his reinstatement will be held responsible. That is precisely why the state doesn't want the two paras to be probed."
The state said it had registered a case against leaking of Shukla's report and CBI could not investigate that case. The SG said it was investigating its content, not the "leak."
Additional solicitor general Anil Singh, also for CBI had begun submissions to oppose the state's petition saying the letter by the ex-CP clearly mentions that when "in the wake of the Antilia incident" he was called to Varsha—the official residence of the CM— in March, he had pointed to "several misdeeds and malpractices being indulged into by the home minister" and how he had "similarly briefed" the deputy home minister and also the "president of Nationalist Congress Party (NCP) Sharad Pawar" and how he "noticed that some of the ministers were already aware about some aspects" mentioned by him to them.
The ASG's submission was that thus CBI is within its right to investigate transfers and posting including Waze's and how can the state now say letter was "restricted" to merely the allegation of a command for Rs 100 crore collection. "Why should the state be bothered or scared by it? It is in everyone's interest to investigate the allegations, we have to clean the administration." Singh said, as said by the SC, 'rampant corruption in corridors of politics' has to be investigated.
He said CBI must stop a "roving" investigation into API Sachin Waze's reinstatement last year and police postings and transfers, as both these aspects were beyond the scope of the HC's April 5 order. The April order of the HC was for a preliminary enquiry ordered into the ex-CP's letter which had formed the basis of a complaint lodged by city advocate Jaishri Patil with the Malabar Hill police station which had not acted on it. The CBI after the PE had on April 21 registered its First Information report (FIR) against Deshmukh.
The state investigation into transfers and posting was an "overreach" of the HC order as it had clearly granted Singh the liberty to raise this issue before an appropriate forum elsewhere.
But the CBI cited Supreme Court judgments to argue that an FIR cannot be an "encyclopaedia" and that when additional information is disclosed –in this case via a petition filed by an intervenor Advocate Ghanshyam Upadhyay, the agency can expand the probe. Also the SG cited rulings to argue that if the HC is satisfied that the CBI is entrusted with a mandate to investigate an FIR then it is the prerogative of the agency how it investigates. He added, besides, quashing power has to be exercised "rarely and in exceptional cases" as held by apex court.

FacebookTwitterLinkedinEMail