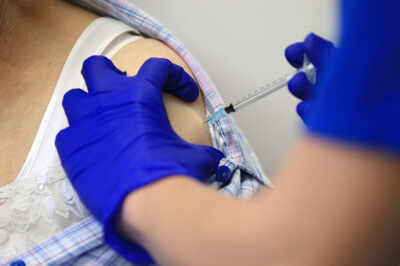 NEW DELHI: Even as chances of reinfection with Covid-19 are low, vaccination against Covid-19 is likely to protect people from severe symptoms if a fresh infection occurs after the immunity from the vaccine lapses, says AIIMS director Dr Randeep Guleria.
Dr Guleria said long term studies will be required to assess how long immunity lasts among vaccinated people. But, even in case of reinfection, it is more likely to be mild. Doctors said the immunity from the current vaccines may last for 9-12 months. However, since these are current generation vaccines, both efficacy and immunogenicity of Covid vaccines are likely to improve in future.
"Even if one has recovered from Covid-19, they can still benefit from vaccination. There is evidence in hospitalised patients that the infection was so overwhelming that the immune response became exhausted and so immune memory to the virus was not created efficiently. Also, if you had a very mild infection, your immune system may not have reached a required level to give protection for a long time. So vaccination can help irrespective of severe or mild disease," a health ministry official said.
The drug regulator on Sunday announced approvals to two vaccine – Oxford-AstraZeneca's Covishield manufactured by Serum Institute of India and Bharat Biotech's Covaxin — against SARS-CoV2 infection — for restricted emergency use. The government is now likely to roll out the mega vaccination drive soon to inoculate 30 crore priority population in the first phase by July.
The government has also said that it is advisable to receive a complete schedule of the vaccine irrespective of past history of infection as it will help in developing a strong immune system.
However, experts emphasise that wearing of masks, social distancing and hand hygiene practices should continue to rule out any reinfection even after vaccination.

FacebookTwitterLinkedinEMail