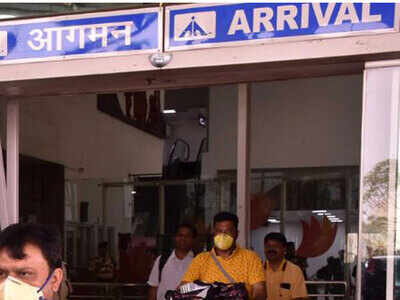 (File photo for representation purpose only)
NEW DELHI: More than 15,600 out-of-job Indian returnees from abroad have applied for a Swades skill card — which aims to match them with suitable job opportunities back home — within 10 days of the launch of the initiative. A majority of skilled workers who returned amid the uncertainty surrounding Covid-19 outbreak were employed in once-lucrative industries like oil and gas in Gulf countries.
Since Skilled Workers Arrival Database for Employment Support (Swades), a joint initiative by the Union skill development ministry and the civil aviation ministry, was launched on May 30, it has received registrations from 15,634 Indians. One lakh Indians have returned on repatriation flights since May 7.
Mahendra Nath Pandey, union skill development minister, told TOI, "The spread of Covid-19 across the globe has had a significant economic impact with workers losing jobs and hundreds of companies shutting down globally. An estimated 80 lakh Indians work in the Gulf alone. This framework can at least ensure their availability to companies looking for such labour. We have also started a toll free call centre facility for this purpose."
Officials said the collected information would be shared with companies in India for suitable placement opportunities.
Indian returnees who arrived in flights before that date can also register online with passport details, work sector, employment details and years of experience on the National Skill Development Corporation (NSDC) website.
Three states — Kerala (4,964), Tamil Nadu (2,518) and Karnataka (1,868) — make up for nearly half of the SWADES registrations from job seekers, according to data accessed by TOI.
Over 1,000 people from Maharashtra have registered while 937 applications were from UP. In comparison, other states like Bihar (560), Rajasthan (542), Punjab (428), Telangana (423) and Andhra Pradesh (407) have a much lower number of applicants.
The workers were employed mainly in five key sectors — construction (2,380), oil and gas (2,288), tourism (1,357), automobile (705) and IT-ITES (669) in countries like United Arab Emirates, Qatar, Kuwait, Saudi Arabia and Oman.