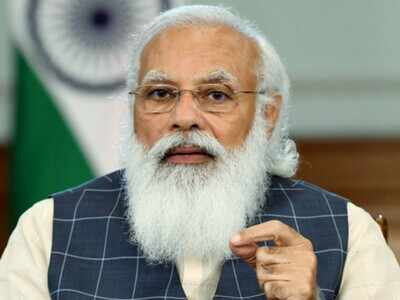 LUCKNOW: Prime Minister Narendra Modi will interact with the beneficiaries of Pradhan Mantri Garib Kalyan Anna Yojana (PMGKAY) in UP via video conferencing on Thursday to mark UP the celebration of August 5 as PMGKAY Day. According to a statement from the Prime Minister Office, a massive awareness programme is scheduled to be launched throughout the state to ensure that no beneficiary is left out from availing the benefits of the scheme. UP CM Yogi Adityanath will also be present on the occasion.
Almost 15 crore beneficiaries of the state have been getting ration free of cost under the ambitious scheme through nearly 80,000 fair price shops in the state. Under the PMGKAY scheme, 5 kg per person additional food grain is given to all beneficiaries covered under the National Food Security Act.
Modi on Wednesday said since Independence, India's food reserves kept increasing but hunger and malnutrition did not decrease in that proportion due to inefficient ration delivery schemes and selfish elements. He made the remarks during the virtual interaction with the PMGKAY beneficiaries in Gujarat. The PM said that after Independence, while the scope and budget of cheap ration schemes increased year after year, the effect it should have had on the poor remained limited.
Not surprisingly, the state government geared up for the occasion with UP chief secretary Rajendra Tewari pitching for an intensive campaign for wide publicity of the scheme. As per the instructions, all the nodal officers reached their allotted districts on Wednesday itself.
The nodal officers have also been asked to review the incomplete works under various government schemes approved in the district, such as district plan, MP fund, funds of three-tier panchayats and other departmental schemes, listing all these works and completing them at an accelerated pace.
The CS also asked the nodal officers to leave the district only after the completion of the program on Thursday. He said that the preparation being done at the fair price shop level would also be reviewed by the nodal officers. Officials were also asked to review the status of availability of bags to be provided to the beneficiaries at the fair price shops.
Apart from this, the officials were asked to assess the preparation done in respect of celebrating the program as 'festival' at the fair price shop level. The designated nodal officer also reviewed the status of the action taken in relation to the seating arrangement of the guests and beneficiaries as per the Covid protocol, inviting those who have been deprived of the scheme and those who are being covered for the first time under this scheme.
Officials also checked the status of installation of television sets at fair price shops for live broadcast of the PM address, review of action taken regarding invitation of public representatives to participate in the program, adequate police force at fair price shops.
FacebookTwitterLinkedinEMail