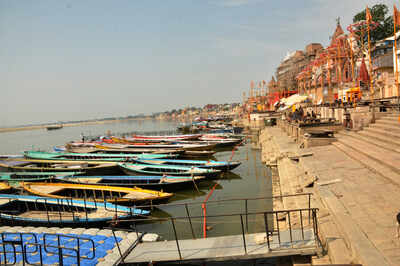 NEW DELHI: Prime Minister Narendra Modi on Friday chaired a review meeting through video conferencing of various development works in Varanasi.
During the meeting, the PM reviewed the progress of Kashi Vishwanath Dham Project and instructed the city officials that all such old temples which were unearthed during the development of the Kashi Vishwanath Parisar should be protected and preserved, according to a government statement.
The Prime Minister said that carbon dating should be conducted so that these temples and their importance is highlighted to the tourist and the pilgrims
During the meeting, the PM was informed that more than 100 major projects within the financial outflow of around Rs 8,000 crores are currently being undertaken in Varanasi.
The projects pertain to the creation of social and physical infrastructure like hospital buildings, national waterways, ring roads, by-pass and International Convention Centre 'Rudraksh' built with Indo-Japan collaboration.
PM Modi instructed the official to adhere to the timeline and maintain the quality standards. He also asserted on the importance of non-renewable energy for the development of next-generation infrastructure.
"Saturation of households and street lights with LED bulbs should be taken on Mission Mode in the entire Varanasi district," the PM said.
During the meeting, the officials underlined the importance of Kashi as one of the key repositories of world heritage.
For increasing the tourism and travel footprint in Kashi, it was directed that works of cruise tourism, light and sound show, rejuvenation of Khidkiya and Dashaswamedh Ghats, display of Ganga Aarti through Audio-Video screens should be fast-tracked.
The PM also directed the officials to organise week-long festivals of countries like Japan, Thailand etc. where Buddhism is practised to celebrate their art and culture heritage.