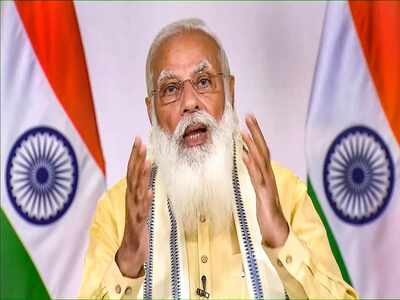 NEW DELHI: Prime Minister Narendra Modi on Saturday sought G7's support for the proposal moved at the WTO by India and South Africa for a TRIPS waiver on Covid-related technologies while also committing to India's support to collective efforts at improving global health.
Official sources said the PM's emphasis on keeping open supply chains for raw materials and components to help enhance vaccine production in countries like India received widespread support.
Speaking at the first outreach session on health at the G7 summit on Saturday evening, Modi said there is a need for a message of "One World One Health" to be sent out from the meeting. He said there should be "global unity, leadership, and solidarity to prevent future pandemics".
In this regard, Modi acknowledged the "special responsibility of democratic and transparent societies" while looking to deepen India's connection with G7 and the Quad formulation.
The session, titled "Building Back Stronger — Health", focused on global recovery from the coronavirus pandemic and on strengthening resilience against future pandemics. According to an official readout, Modi expressed appreciation for the support and assistance extended to India during the recent Covid surge.
The PM said India had adopted a "whole of society" approach to fighting Covid-19, bringing together efforts of the government, industry and civil society. Highlighting India's use of technology during the pandemic, he added that the country used open source digital tools for contact-tracing and vaccine management. He also conveyed India's willingness to share its experience and expertise with other developing countries.
On Sunday, Modi is expected to speak at two other outreach sessions.

FacebookTwitterLinkedinEMail