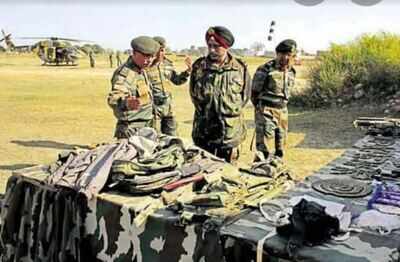 Lt Gen KJ Singh inspecting weopons and equipment (Pic credit: Lt Gen KJ Singh)
BENGALURU: As India marks a year after the unarmed clashes with Chinese People's Liberation Army (PLA) soldiers in Ladakh's Galwan Valley on June 15, experts say tensions in the region continue.
The Defence Research and Studies (DRaS) recently conducted an online discussion on PLA's capabilities with Lt Gen K J Singh (Retd). The Chinese PLA is the military machine of the People's Republic of China.
Gen K J Singh said that India was surprised at Chinese deceit in Galwan valley, while the Chinese were taken aback with India's tactical military response.
"Even though China possesses the world's largest army, numerical superiority cannot be given overbearing importance as larger numbers alone don't indicate that PLA's capabilities are better. Both quantitatively and qualitatively India has the capability to deter the Chinese threat," he added.
Prof Bidanda Chengappa, secretary, Institute for Contemporary Studies, Bangalore told TOI that the Galwan episode highlights that China is clearly India's biggest adversary, and diplomacy alone cannot deter China from its military misadventures. "For India therefore, military modernisation becomes a priority, rather than a choice," he said.
Experts also say that military modernisation is important for India's defence against China in the region.
Gen K J Singh said that India probably lacks a certain amount of versatility in its fleet. "We have medium tanks and Infantry Combat Vehicle (ICV), but it will be good to have light tanks added to our inventory. The demand for 350 light tanks has been floated and this procurement would be very pertinent for India's capabilities in high-altitude warfare", he explained.
Light tanks are agile and much lighter in weight than medium tanks, enabling easy mobility in mountainous terrains. An ICV is an armoured fighting vehicle to transport infantry/foot soldiers into battle.
While discussing India's procurement options, Gen Singh opined that it would be pragmatic to consider Russia's offer to co-opt India in Sprut light-tank trials. "As a great realpolitik messaging, India should get a few of these to Ladakh for trials and deploy them to spook the PLA", Gen alluded. Sprut light tank is an amphibious, 18 tonne, air portable and para-dropped tank manufactured by Russia.
Maj Gen Rajan Kochhar, senior advisor, DRaS told TOI that light tanks are relevant in mountainous terrain and high altitude due to their basic characteristics of high mobility and firepower. "However, unlike medium or heavy tanks, they cannot carry troops inside. It is therefore important that our officials take well-informed decisions regarding armour production and procurement guided by a cost-benefit analysis."
Chinese psychological warfare tactics
Gen K J Singh explained that at the beginning of the India-China tensions in June last year, there were rumours about Chinese PLA employing microwave weapons and drones against India. However, the Indian Army's successful operation in the Kailash ranges of Ladakh proved that either Chinese have serious limitations in mountainous terrain, or their weapons are still far from being operational. The rumours show that China uses such psychological warfare tactics and deception for false projection of its capabilities, he said.
Maj Gen Kochhar added that Kailash ranges were the theatre of conflict during the 1962 Chinese offensive. Hence Indian Army's occupation of this region in August last year gave us a strategic edge. "The PLA was certainly caught napping, and it clearly exposed the Chinese myth of being considered a superior force," he said.
It is not China alone, but its proliferation in the region that is worrisome, add experts.
Gen K J Singh shared his worries about Beijing's arms collaboration with Pakistan, Sri Lanka, Myanmar, Nepal, Bangladesh etc. "Such collaborations in the Indian neighbourhood give the Chinese and their proxies a chance to be present in these countries for service and maintenance, enabling them to gather intelligence and develop linkages."
Divya Malhotra, Assistant Professor at School of Military Affairs, Rashtriya Raksha University told TOI that "By choosing to attack the Indian troops in Galwan valley last year, China showed an absolute disregard for the diplomatic understanding achieved by the two neighbours over the last few years". Bilateral relations touched a new low in the heights of Ladakh, she added.

FacebookTwitterLinkedinEMail