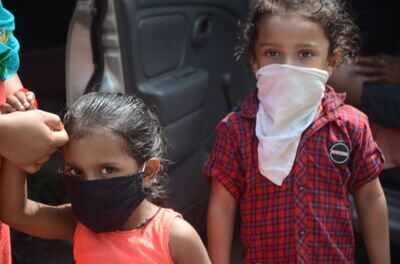 LUCKNOW: In what would bring a relief to parents, experts say that there is no biological reason that the third Covid wave will affect children. It was hypothetical to say so.
Speaking at the webinar organised as part of the Times Group's Protect UP - My Mask My Jab campaign, experts came together to address issues related to Covid-19 pandemic, its prevention and management. Times Group had joined hands with the Uttar Pradesh government for the campaign, which began in June.
In the webinar titled 'Covid-19 Third Wave: Prevention and Preparedness Matters', president-elect of International Paediatric Association Dr Naveen Thakker said, "There is no biological reason that the third wave would affect children. It is never the children who pass on the infection to the adult, it is always the other way round."
He stressed that children are definitely at the receiving end of the pandemic but that is because routine immunisation is affected, school is being missed and pressure is on mental health. There is no need to panic for parents, he said. "Infection is not severe in children and they are mostly asymptomatic," he added.
Besides Covid-appropriate behaviour, there is a need to tell people that ensuring proper ventilation is equally important. "One of the foremost things that we need to tell people is that vaccination reduces the risk of infection manifold. A person who has been vaccinated may get the infection but it would not be severe," said professor Rajesh Ranjan from IIT-Kanpur.
Ranjan's team at IIT-K, which had done research to predict the second wave, said, "We should not say that the third wave will not come. The US, UK, Japan, and Russia have had many peaks so far. This virus is weird."
On suggestions to tackle the third wave, he said that people aged 18 to 59 years are more at risk and need to be vaccinated. "Our research showed that 40% among those above 60 years of age had developed herd immunity while those aged 18 to 59 had 25% herd immunity," he said.
"If we assume that at least 30% have developed immunity by now in the state, the third wave could be predicted around October," he said.

FacebookTwitterLinkedinEMail