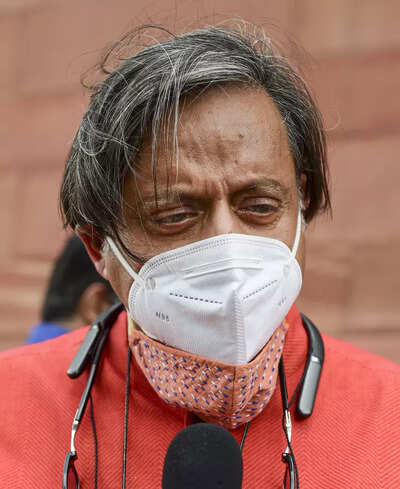 The developments are likely to be read in context of Shashi Tharoor and opposition MPs clashing with NDA members.
NEW DELHI: A meeting of the Shashi Tharoor-led standing committee on information technology saw high drama on Wednesday with 10 BJP MPs showing up at the meeting, but refusing to register their attendance, effectively scuttling proceedings for lack of quorum even as top officials skipped the discussion at the last minute.
The House panel was scheduled to discuss "citizens' data privacy and security", an all-encompassing topic that was to span the contentious Pegasus and the 'Sulli Deals' App issues. What was also unprecedented was that three Union secretaries, including MeiTY secretary Ajay Sawhney, who had on July 20 confirmed that they would depose before the House panel, excused themselves from appearing one hour before the committee met at 4pm on Wednesday.
There was further controversy when after the meeting, BJP MP Nishikant Dubey accused Trinamool MP Mohua Moitra of abusing the entire Hindi-speaking population of the country. "By using the Bihari Goonda word, the AITC MP has not only abused Biharis but also the entire Hindi-speaking population of the country. It reflects AITC's hatred towards this language and its people."
The abstention of officials, sources said, is against the Rules of Parliament and a clear "contempt of Parliament" since the inability to attend a meeting must be approved by the chairperson of the committee first, which was not done in this case. The developments are likely to be read in context of Tharoor and opposition MPs clashing with NDA members.
Though the panel meeting convened with 19 people, with BJP MPs refusing to register attendance, it fell short of quorum of 10 by one. The ruling party MPs, however, insisted on sitting through, which led to the sharp exchange of words between Moitra and Dubey, and an allegedly "unprovoked" attack by Moitra in which she referred to Dubey as a "Goonda".
With no officials showing up, and short of quorum, the meeting was called off. However, six opposition MPs, including chairman Shashi Tharoor, are learnt to have approached Speaker Om Birla to register their protest against "70 years of Parliamentary traditions being turned on their head" with officials failing to depose. "What happened today shows the lengths to which BJP is willing to go in order to not discuss the Pegasus spyware issue," a member who attended the meeting said.
Meanwhile, Dubey gave a notice of privilege against Tharoor, and demanded his removal as the panel head, alleging that he was misusing his position and violating parliamentary norms.
Raising the issue in Zero Hour, Dubey alleged Tharoor for divulging details of the functioning of the panel to the media by misusing his powers and showing no respect to Parliament. He said his motion, signed by 17 members, should be taken up and a meeting of the parliamentary panel should not be held until the decision is taken on his demand.

FacebookTwitterLinkedinEMail