MUMBAI: Mumbai police on Thursday said it has busted a racket where three channels—
Republic TV
, Fakht Marathi and Box Cinema-— manipulated Television Rating Points (TRP), a measure of viewership that drives advertising revenues, and arrested four people.
Police commissioner Param Bir Singh at a press conference said
TRP manipulation
allowed these channels to fraudulently boost viewership numbers and attract more advertisements. Families, including those residing in slums, were paid Rs 400 to Rs 700 a month to keep these channels switched on. An illiterate person also kept English channels continuously on at home, Singh added. The police chief said the money earned through advertisements in a fraudulent manner would be considered as "proceeds of crime".
As per BARC, suspicious trends were seen in case of
Republic TV TRP
. "BARC had identified some households in the city and our teams reached there for investigation. In this case, Republic TV, its directors and promoters are beneficiaries and it led to revenue loss to other channels and advertisers."
"Irrespective of who the editors or the owners are, we will take strict action against them," Param Bir Singh said, and added the police were looking for more people involved in the racket.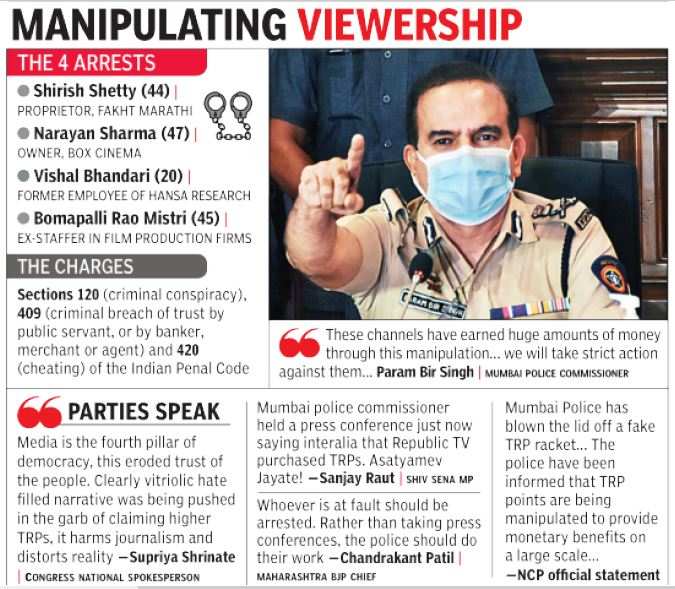 The police on Thursday arrested the proprietor of Fakht Marathi, Shirish Shetty (44), and owner of
Box Cinema
, Narayan Sharma (47). Vishal Bhandari, a former employee of Hansa Research, and Bomapalli Rao Mistri, alias Sanjurao, who was allegedly manipulating the TRPs, were arrested on Wednesday. Police said they had found Rs 20 lakh in Mistri's bank account and another Rs 8.5 lakh in his bank locker.
A grocery shop owner told police that he would tune into a specific channel, for which he was paid money, and go to his shop. It was Bhandari who had a list of households where "barometers" were installed and he would visit those households.
Police claim to have obtained WhatsApp chats between Bhandari and households where they talk about money in return for watching specific channels. "It has been revealed in the investigation so far that certain TV channels such as Republic TV, Fakt Marathi, Box Cinema have been indulging in such malpractices," a Mumbai police press release said.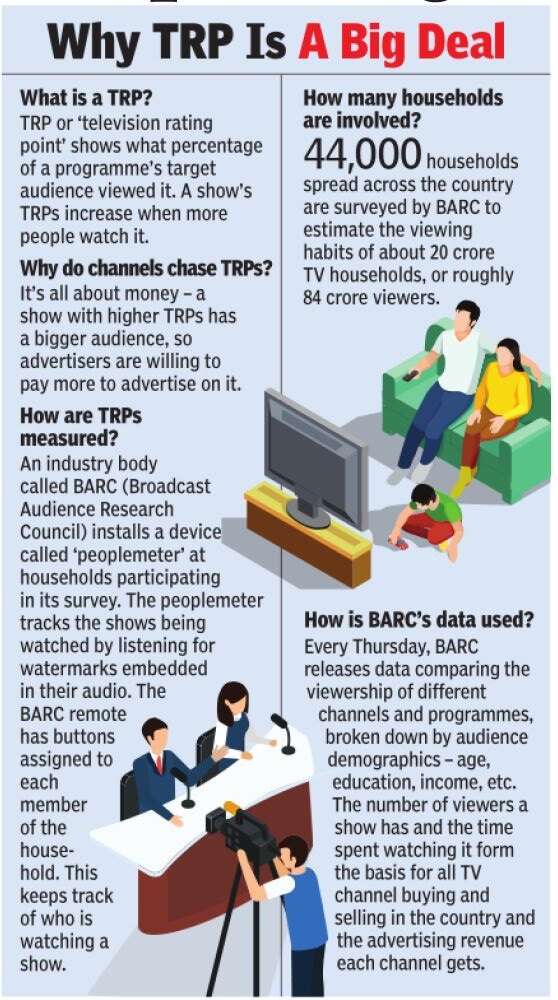 BARC had installed 2,000 barometers in homes in Mumbai to monitor TRPs. Information on the homes is treated as confidential. BARC, which releases weekly rating points for TV channels in India, had given the contract to Hansa Research. On October 6, Hansa filed a complaint with police against some ex-employees who misused the data on households where the TRP monitoring systems are installed.
Singh said, "We received information from Hansa about TRP manipulation for monetary consideration. Based on the information, our team worked and arrested a former employee of Hansa. His interrogation led us to the arrest of two TV channels' owners. These channels have earned huge amounts of money through this manipulation and now we will also scrutinise their financial dealings."
Police said they had also stumbled upon a Rs 28 crore transaction of a TV channel where money was paid under the table to cable operators and local goons who protected these cable operators. The police have sought from the bank the channel's transaction details. BARC India said it would cooperate with police. "As in all our previous cases of suspected panel homes intrusions, BARC India continues to follow its established vigilance and disciplinary guidelines," it said.
Maharashtra home minister Anil Deshmukh told a Marathi news channel that action would be taken against Republic TV and its owners as per rules. Police have asked for more clarifications from the channel, he said, adding that there was no question of bowing to pressure. If needed, arrests would also be made, he said.
He added they had not acted out of vengeance, "even though a few channels have been constantly taking an anti-Maharashtra stand". Republic TV editor-inchief Arnab Goswami issued a statement accusing Singh of making "false allegations" against the channel "because we questioned him in the Sushant Singh Rajput case investigation".
"Republic TV will file a criminal defamation case against the Mumbai police commissioner. There is not a single BARC report that mentions Republic TV," he said, demanding an apology. Singh said he was not into vendetta against the channel and this was a professional job.
Hansa Research CEO Praveen Nijhara said, "Hansa Research and BARC conducted an investigation into the matter over the last few weeks, the conclusion of which resulted in Hansa Research filing an FIR against an ex-employee who was engaged in some wrongdoing."
Late Thursday night, in response to Republic TV saying that it was India Today TV and not Republic that had been named in the FIR, joint commissioner of police (crime) Milind Bharambe issued a statement, saying, "In the FIR, the name of India Today is mentioned. However, it is not substantiated by any of the accused or witnesses. On the contrary, the accused and witnesses are specifically mentioning the names of Republic TV, Fakt Marathi and Box Cinema. Thorough investigations are on."