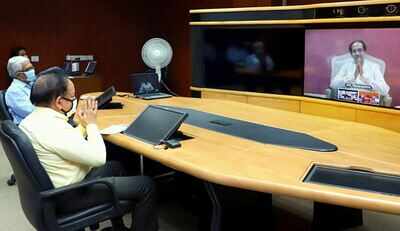 Union minister Dr. Harsh Vardhan at the launch of Integrated Flood Warning System for Mumbai referred as I-FLO...Read More
NEW DELHI: An integrated flood warning system for Mumbai was launched on Friday. Chief minister Uddhav Thackeray called it a "gift to Mumbaikars" from the Centre, adding in a lighter vein that he hoped the state gets a similar system of alert on any "political storm" as well.
His remark on "political storm" drew laughter as he jointly launched the integrated flood warning system — called "iFLOWS-Mumbai" — with Union minister Harsh Vardhan via video conference.
Thanking the Union minister for the 'flood warning system', Thackeray, whose Shiv Sena was an NDA ally before forming government with NCP and Congress in the state, said, "Jaise ye system hai, waise aur ek system laga de ki agar koi political storm bhi aa raha hai to wo bhi suchna aap pehle de denge to accha rahega (it would be good to have a similar system where you can provide information of any approaching political storm in advance)."
The iFLOWS will help civic bodies predict floods at ward-level three days in advance with 3-6 hours nowcast (immediate weather updates). The system will be useful if people need to be evacuated from low lying areas. It will address flood inundation due to rainfall, river bank breach, storm surge, obstruction of flow, high tides and sea level rise.
Mumbai is the second city after Chennai to have such a system. The ministry of earth sciences (MoES), which developed it using its several institutions in close coordination with the Municipal Corporation of Greater Mumbai (MCGM), has plans to set up a similar system for Kolkata and Bengaluru by next year.
Calling the system "boon" for the city, Thackeray while referring to current Covid-19 situation and recent cyclone Nisarga said both "blood management and flood management are equally important" and the Union minister (Harsh Vardhan) had come forward proactively to help Maharashtra.
Speaking about capabilities of India Meteorological Department (IMD) whose forecasts will be the integral part of the iFLOWS, the MoES secretary, Madhavan Rajeevan, said more than 160 observatories and 4 more radars (to be used by next monsoon season) which have been ordered for Mumbai will enable the IMD to forecast rainfall with "a precision of 500 metres and every 15 minutes".
The Doppler radars — two in Mumbai, and one each in Thane and Navi Mumbai —will now be put to use next monsoon as shipment of the radars has been delayed due to the pandemic. The IMD has a Doppler radar atop a Colaba building.
The GIS-based decision support system, iFLOWS, has all relevant details - such as land topography, land use, infrastructure, population, lakes, creeks and data on river bathymetry of all rivers namely Mithi, Dahisar, Oshiwara, Poisar and Ulhas - which will help it predict the vulnerable areas in advance, keeping in view the rainfall forecasts.
The iFLOWS-Mumbai is built on a modular structure and comprises seven modules, namely data assimilation, flood, inundation, vulnerability, risk, dissemination and decision support system. It incorporates weather models from National Centre for medium Range Weather Forecasting (NCMRWF), India Meteorological Department (IMD) and field data from the rain gauge network stations, setup by different agencies.