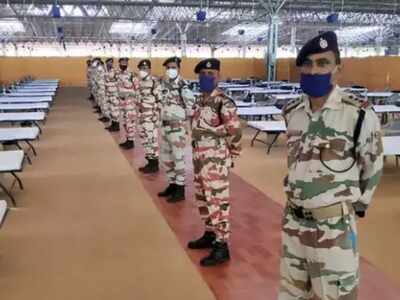 Representative image
NEW DELHI: More than 1,000 doctors, nurses and paramedic staff from ITBP and other Central armed police forces as well as an additional 1,000 paramedical, assistant and security staff shall be deployed at the 10,000-bed Covid care centre ready to be functional at the Radha Soami Beas facility at Chhatarpur.
As ITBP positioned fully operational medical teams at the Covid care facility, DG ITBP S S Deswal paid a visit there to inspect their preparedness and interact with the teams. He congratulated them for their professional preparedness at such short notice.
Talking to the ITBP personnel on the spot, Deswal said that the force is ready with the team of doctors to provide full support to the Covid care centre. He said that ITBP is always ready to assist the authorities with full support in Covid care arrangements and the required team of doctors and other medical staff, support and security staff as sought, had been provided to the facility.
ITBP had been tasked by the home ministry to provide medical staff and support to the Covid care centre and act as the nodal agency to operate it. The Delhi government has been providing all administrative support while the Radha Soami Beas Chattarpur has offered the site, housing facilities and other infrastructure as well as assistance including food.
The total bed capacity at the Radha Soami centre may go up to more than 10,200, making it the largest Covid-19 care facility set in India so far and also the largest envisaged worldwide.
The centre will have two segments- Covid Care Centre (CCC), where asymptomatic positive cases will be treated, and Dedicated Covid Health Care (DCHC) for symptomatic cases. The CCC will have 90 per cent beds while DCHC will have 10 perc ent beds. The DCHC will have oxygen support system.
More than 75 ambulances will be deployed at the centre.
An ITBP release said the force was chosen to operate the facility in view of its immense experience in fight against Corona since its outbreak in the Country. It has run the largest 1,000 bedded quarantine facility in Chhawla, New Delhi followed by successfully treating Central para-military personnel and families at its referral hospital.
Deswal had visited the facility earlier too to review the preparations and other coordination.
A dedicated detachment of ITBP has also been deployed around the centre for full proof security.