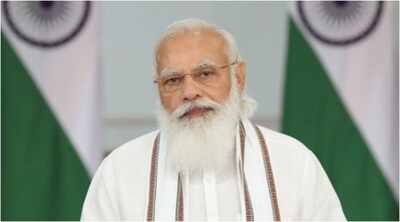 Prime Minister Narendra Modi addressing at the launch of the digital payment solution e-RUPI.
NEW DELHI: Prime Minister Narendra Modi on Monday said that direct benefit transfer has helped check leakages of over Rs 1.75 lakh crore with technology aiding the government to deliver services in a more efficient and transparent manner, especially to the poor.
"Earlier people often said that technology is only for the rich¸ so why does India need technology? When our government seeks to turn technology into a mission, then several political leaders and some specific types of experts raise questions. But today, the government has proved them wrong…. Today, we see technology as a tool to help the poor and in their development. The world is witnessing that technology is bringing about transparency and honesty in India…. How it is creating new opportunities… it has reduced dependence on the government and red-tapism," he said, while launching e-RUPI, an electronic voucher scheme.
Modi cited several examples – from Fastags at toll plazas to the government e-market place portal apart from Aarogya Setu and Co-Win – to argue how technology had aided citizens, something that was inconceivable eight to 10 years ago.
When it comes to innovations, the use of technology in service delivery, India has the ability to give global leadership along with big countries of the world, he said adding that e-RUPI will also be a successful initiative in the coming years.
"Not just the government, but even other institutions can use this to help someone for medical treatment, education or other purposes. They will be able to transfer through e-RUPI instead of cash. This will ensure that the money being given is used for a specific purpose. Initially, this scheme is being implemented for health sector benefits," Modi said.
He explained how transfers can be done to purchase beds in a senior citizens' home or to feed the poor. "In the national context, if the government wants to provide funds to purchase books, then e-RUPI will ensure that the money is being used to buy books," the PM said.

FacebookTwitterLinkedinEMail