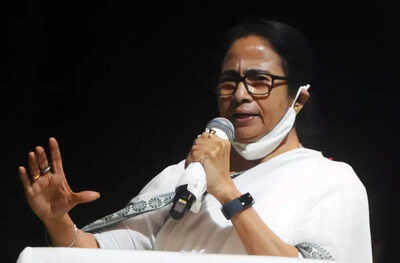 KOLKATA: Trinamool Congress mouthpiece 'Jago Bangla' on Friday front-paged a lead article saying Rahul Gandhi hasn't succeeded and Mamata Banerjee was the only alternative to Narendra Modi.
The article - quoting party seniors, including TMC's Lok Sabha leader Sudip Bandyopadhyay, speaking at a closed-door party conference on Wednesday - said while Congress was integral to the opposition bloc, Rahul didn't succeed to emerge as Modi's alternative despite several chances. Trinamool will start a campaign with Mamata as Modi's alternative, the article said.
The daily quoted Bandyopadhyay as saying at the meeting that the nation needed an alternative. "I have known Rahul Gandhi for long. But I am forced to say that he has failed to emerge as a viable alternative to Narendra Modi. The entire country now wants Mamata (Banerjee). We will speak to all opposition parties and project Mamata Banerjee as the alternative," he said.
Speaking to TOI, Bandopadhyay said: "Whatever I had to say I have done it at the party workers' conference at University Institute Hall on September 15. It's my personal opinion that has been published in the party paper. I have nothing to add to it."
Bandyopadhyay added that his words reflected his assessment after talking to a cross-section of people on the sidelines of his visits to four states over the last month as part of parliamentary standing committee teams. "They feel Mamata Banerjee can steer the nation," he said.
This, however, didn't come as a surprise.
Eleven days ago, emerging out of a nine-hour ED questioning at its Delhi office, TMC national general secretary Abhishek Banerjee interestingly had singled out Congress when he said Trinamool will take on BJP head-on, and unlike others (mentioning Congress specifically once) will not "sell their spines or hide in homes".
Even before Parliament's monsoon session, Trinamool floor leaders in the Lok Sabha, Bandyopadhyay and its leader in Rajya Sabha Derek O'Brien didn't attend any opposition meeting convened by Rahul. The party had, instead, sent its MPs.
Reasoning why TMC chose to skip some opposition meetings, party MP Saugata Roy had said, "The Trinamool supremo had espoused the need for all parties opposed to BJP's divisive and communal politics to come together. TMC believes in opposition unity. But it isn't axiomatic that there will always be a joint approach, it will be merit-based. We have made our position clear both inside and outside Parliament."
Roy had added that TMC stood on a different footing, having fought and defeated BJP on its own in Bengal.
TMC isn't the only party that has questioned Congress. NCP leader Sharad Pawar had a week ago remarked on the Congress as "zamindars who can't control their havelis".
On August 20, Mamata had stressed at a virtual meeting of 19 opposition parties that parties who were not allied to Congress should also be part of the opposition bloc against BJP. Her statement came in the backdrop of several regional parties either choosing to skip the meeting or were not invited.
According to sources, parties that were either not invited or chose to give the two-and-a-half-hour meeting a miss were BSP, AAP, MiM and parties opposed to Congress like TRS, BJD and YSR Congress.

FacebookTwitterLinkedinEMail