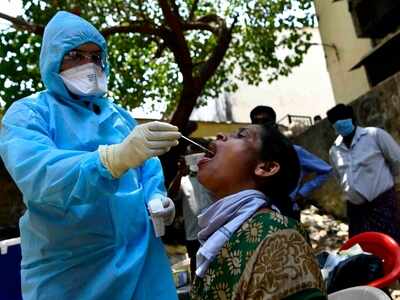 Representative image
NEW DELHI: Amid rapidly rising Covid-19 cases, the health ministry on Monday asked states witnessing surge in infection to draw up district-wise prospective plans for the coming months to combat the viral disease.
Health secretary Preeti Sudan held a meeting with officials from 45 civic bodies across 38 districts in 10 states with rising infected cases to ramp up house-to-house surveys, prompt testing and surveillance measures to contain the infection and reduce mortality.
The video conference was attended by district collectors, municipal commissioners, superintendents of district hospitals and principals of medical colleges from 45 municipal corporations.
The 38 districts are from Maharashtra, Telangana, Tamil Nadu, Rajasthan, Haryana, Gujarat, Jammu and Kashmir, Karnataka, Uttarakhand and Madhya Pradesh.
Officials said these areas have reported low doubling time of cases, whereas the positivity and the fatality rate are high, raising concern.
"Main issues discussed included widespread infection in densely populated urban areas, with areas that shared public amenities; importance of house-to-house surveys; prompt testing followed by prompt isolation and clinical management of cases and containment strategy to be implemented," the ministry said.
States have also been asked to initiate measures in containment zones for case management and buffer zones surveillance activities and promotion of Covid appropriate behaviour.
"To reduce the case fatality rate, the officials were briefed on measures to be taken like prioritising the high-risk and vulnerable segments like elderly people and people with co-morbidities while contact-tracing to prevent deaths; active surveillance measures, adequate testing and promoting health seeking behaviour for timely detection of cases; ensuring timely shifting of patients without escalating the symptoms," a senior official said.
Besides, states have been also directed to do adequate planning for health infrastructure; adequate number of surveillance teams must be provided and a system should be put in place for bed availability management.
Officials were also advised to ensure that labs return the testing results on time to ensure early identification and timely treatment of patients.
The death toll due to Covid-19 rose to 7,200 and the number of cases climbed to 2.56 lakh in the country, registering an increase of 271 deaths and a record single-day jump of 9,983 cases till Monday 8 am, health ministry said.
The number of active Covid-19 cases stood at 1.24 lakh.