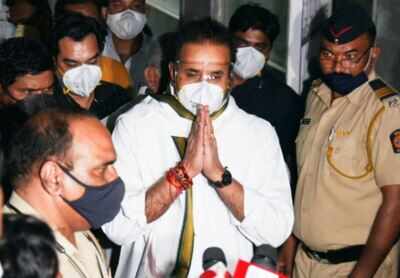 MUMBAI: The Central Bureau of Investigation (CBI) on Monday told the Bombay high court that the Maharashtra government was "not cooperating" with the agency in its probe against former state home minister Anil Deshmukh, who is facing allegations of corruption and misconduct.
Solicitor general Tushar Mehta, who appeared for the CBI, told the HC that while the probe, initiated following a previous order of the HC, was a chance to "clean up the entire state administration," the Maharashtra government was refusing to cooperate with the agency. Mehta denied the accusations made by the state government that the CBI was going beyond the high court's order by including issues of the reinstatement of former assistant police inspector Sachin Waze, and Deshmukh's undue interference in the transfers and postings of police officers.
He denied the allegation made by state's counsel, senior advocate Rafiq Dada, that the CBI was using the Deshmukh probe to gain backdoor entry into probe against IPS officer Rashmi Shukla in a case of illegal phone tapping and alleged leaking of sensitive documents related to police postings. The solicitor general made the submissions before a bench of Justices SS Shinde and NJ Jamadar that was hearing a plea filed by the Maharashtra government seeking to expunge two paragraphs from the FIR registered by the CBI against Deshmukh earlier this year.

FacebookTwitterLinkedinEMail