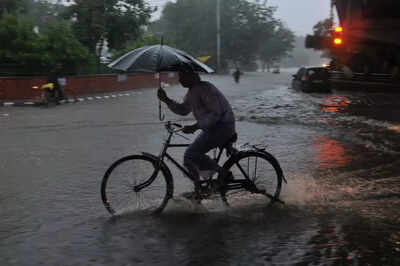 NEW DELHI: Friday was the expected date for the start of monsoon retreat from the country, but it is likely to stay energised till at least the end of this month with two, possibly three, more back-to-back low-pressure systems lining up in the Bay of Bengal, a top met department official said.
India has received 33.4% surplus rainfall in September so far, helping narrow down the overall monsoon season deficit to 4%, from 10% in the last week of August. Any further improvement in the rest of this month will put this year's monsoon in the "normal" category.
While one cyclonic circulation is likely to begin impacting Odisha and West Bengal from Saturday, as reported by on Wednesday, another system is expected to bring rain for four to five days starting around September 25, the India Meteorological Department (IMD) said.
"The monsoon is not likely to withdraw by the end of this month due to the likely formation of two cyclonic circulations over the Bay of Bengal and their west-northwestward movement across central and adjoining northwest India," said Mrutyunjay Mohapatra, head of IMD.
Meanwhile, weather models were pointing to the possibility of yet another system forming in the Bay of Bengal around September 28, but Mohapatra said it was too early to speak about it with any degree of certainty.
Currently, a well-marked low pressure lay over north Madhya Pradesh and adjoining south Uttar Pradesh. This system is now expected to bring fairly widespread rain over Gujarat, Rajasthan and west Madhya Pradesh in the next three days, with showers increasing over Gujarat from Sunday, the met office said.

FacebookTwitterLinkedinEMail