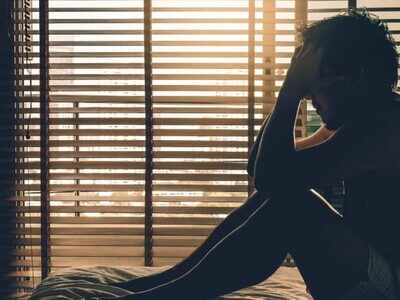 INDORE: The outbreak of Covid-19 pandemic has raised anxiety levels of people amid uncertainty and possible health risks causing mental health issues, claimed a study by Indian Institute of Management (IIM), Indore suggesting a more localized approach to address and regulate ease of accessibility to mental health services.
The study by a team of faculty at IIM Indore and alumni from Indian Institute of Technology (IIT) Madras highlighted that amid the spread of pandemic people are vulnerable to developing mental health issues and local administration must regulate the ease of accessibility to mental health services to aid a healthier lifestyle and guard against lifestyle-related diseases.
The study was conducted on 568 residents from red zone districts of India during lockdown 2.0 to explore and understand citizens' emotional health and trust in the government. Of these 121 respondents were from Indore.
The study showed that 55 per cent of the respondents suffered from high anxiety while others demonstrated moderate to mild anxiety. This number was 68.5 per cent for Indore.
Professor Vaijayanthee, faculty at IIM Indore said, "We studied two indicators of emotional health- anxiety and emotional support of the citizens which represent the collective anxiety. Arresting anxiety is critical at this stage considering that anxiety and related psychological responses can be contagious."
Respondents for the study were selected from Maharashtra, Madhya Pradesh, Gujarat, Delhi, Rajasthan, Haryana, Himachal Pradesh, Uttar Pradesh, West Bengal, Tamil Nadu, Karnataka, Kerala and Andhra Pradesh.
The study showed various initiatives posted on the website of the Ministry of Health & Family Welfare on ways to deal with anxiety and stress are not helping the community much and a localized district level approach is required to better be able to address mental health issues.
Not having a health insurance policy or uncertainty whether the policy covers Covid-19 tests and treatment were also reasons for high anxiety among respondents as per the research.
Professor Himanshu Rai, director, IIM Indore said, "Insurance companies must make efforts to communicate the coverage for diagnostic tests and treatment in their basic plans as it will help to deal with any medical emergency with hopes of leading a worry-free life ahead."
Around 76 per cent of the respondents surveyed said they received moderate to a high level of support from the members of the society. In Indore the percentage was 64.45 per cent.
Professor Aekta Aggarwal, faculty, IIM Indore said, "The survey attempted to gauge the community's response to the various policies and initiatives taken by the Government and the local administration during the lockdown. About 83 per cent of the respondents exhibited moderate to a high level of transparency and trust in the government."
The respondents have also shown a great deal of trust in the other social stakeholders involved in dealing with the crisis, which include the police and the healthcare system.