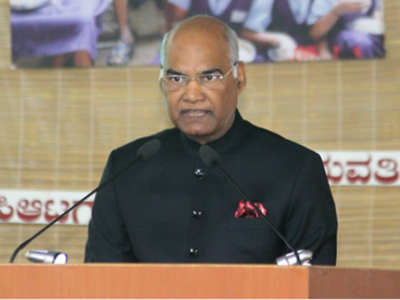 SRINAGAR: President Ram Nath Kovind on Tuesday said he was sure that his dream of seeing Kashmir get its rightful place as crowning glory of India would come true sooner or later.
Prez Ram Nath Kovind further said that it was most unfortunate that outstanding tradition of peaceful coexistence was broken in Kashmir .
"Violence, which was never part of Kashmiriyat, became a daily reality," he added. The president said Kashmir is the meeting point of various cultures.
"It (violence) is alien to Kashmiri culture and it can only be termed as an aberration, a temporary one, much like a virus that attacks the body and needs to be purged. Now there is a new beginning and determined efforts to regain this land's lost glory," the president said .
The president said that that democracy has the capacity to reconcile all differences and bring out the best of the citizen's potential, saying Kashmir is happily realizing this vision.
Kovind said almost all religions that came to Kashmir embraced the unique feature of "Kashmiriyat" that shunned orthodoxy and encouraged tolerance and mutual acceptance among communities.
"I take this opportunity to urge upon the younger generation of Kashmir to learn from their rich legacy. They have every reason to know that Kashmir has always been a beacon of hope for the rest of India. Its spiritual and cultural influence has imprint all across India," he added.
President Kovind congratulated the young students of the Kashmir University who were conferred with the degrees at the convocation. "I have been told that nearly three lakh students are receiving degrees today and I am impressed by the number," he said.
President Ram Nath Kovind , who arrived here on four-day visit on Sunday, interacted with members of the Unified Headquarters in Srinagar wherein senior military commanders briefed him about the prevailing security situation in Jammu and Kashmir on Monday , officials said.
The officials said the President was briefed about the situation along the LoC, especially in the wake of the ceasefire between India and Pakistan, which the armies of the two countries agreed upon in February this year.
Kovind was also briefed by the officials about the counter-insurgency operations in Jammu and Kashmir, they said.

FacebookTwitterLinkedinEMail