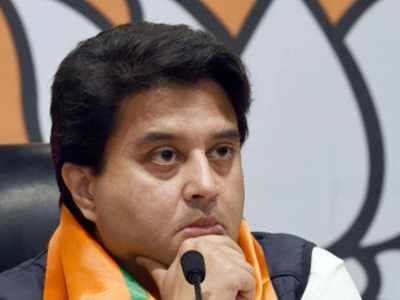 BJP leader Jyotiraditya Scindia (File photo)
BHOPAL: BJP leader Jyotiraditya Scindia and his mother Madhavi Raje have been admitted to a Covid-19 dedicated private hospital in South Delhi's Saket area, disclosed sources on Tuesday. Jyotiraditya Scindia has shown symptoms of suspected coronavirus infection, his mother remains asymptomatic. Members of Scindia family and the hospital management have not officially disclosed the details though, Madhya Pradesh chief minister Shivraj Singh Chouhan has expressed concern over the health of the leader and expected his and his mother's speedy recovery.
"Received information about you (Jyotiraditya Scindia) and your mother not well. I pray to the Almighty for your and your mother's fast recovery," tweeted Chouhan, on Tuesday.
State home and health minister Narottam Mishra also expressed concern after reports reached here about Scindia and his mother's ill-health. He said, "I got information about Jyotiraditya Scindia and his mother not keeping well. I pray to `Maa Pitambara' for speedy recovery and a long life to both."
Expressing concern, former chief minister Uma Bharti tweeted, "I just came to know that the senior leader of our party, Jyotiraditya Scindia and his mother have been infected by Crona and admitted to Max Hospital in Delhi. I am worried about their health. But, I am sure they will recover soon."
Even Jaivardhan Singh, son of former chief minister Digvijaya Singh also tweeted about Scindia's illness and expected fast recovery and long life. Jaivardhan was a cabinet minister in the previous Kamal Nath-led Congress government in Madhya Pradesh.
Jyotiiraditya Scindia had arrived in Bhopal on March 12 after he joined BJP in New Delhi in the presence of national president JP Nadda. On March 13, he filed nomination papers for the Rajya Sabha elections as BJP candidate among four other contestants. After lockdown on March 22, he was stationed in New Delhi and communicating with the party workers and public through social media platforms.
On Tuesday morning, he tweeted about wheat procurement by the Madhya Pradesh government and congratulated the leaders for making a record in the country by procuring the highest 1.27 crore tonnes of wheat. However, at around noon he went unreachable, said Scindia supporters.
"I was in touch with Sicindia ji, since morning and he was also replying to the queries on social media. We asked about his health and he confirmed that he was well. But, at noon his mobile turned off. Now we have no official confirmation about his and his mother's health," said Scindia supporter and former Congress general secretary, Yogendra Lumba.
Sources said that Scindia's health could be a major problem for the BJP ahead of Rajya Sabha elections scheduled to be held on June 19. However, BJP leaders said that Scindia would recover fast from the suspected infection.
Earlier, BJP national spokesperson Sambit Patra had also shown symptoms of coronavirus and was admitted to a private hospital in Gurgaon. He was discharged on Monday.