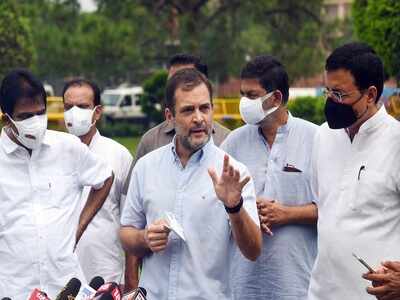 NEW DELHI: Claiming that Intelligence Bureau officers had told him that his phone was being tapped, Rahul Gandhi on Friday accused PM Narendra Modi of treason for snooping on the opposition and institutions, drawing a strong riposte from the saffron party which demanded that the Congress MP hand over his phone to the investigating agencies so that a proper investigation could be conducted.
Rahul reiterated his demand that home minister Amit Shah be removed from the Cabinet and a Supreme Court inquiry be conducted against the PM.
"I get phone calls from IB people who tap my phone and they tell me we are tapping your phone. My security people tell me that they have to debrief to their seniors what I say. So, I am under no illusion that my phone is not tapped," he said.
Soon after Rahul's remark, BJP spokesperson Rajyavardhan Rathore told reporters, "If Rahul Gandhi thinks his phone is being tapped, he should submit his phone to the competent agencies so that action is taken as per the IPC."
Rathore mocked Rahul's charge, saying, "I don't think even a junior copywriter will tap the Congress leader's phone since the device cannot have anything original."
"No phone or any gadget is being recorded illegally and if someone feels so, they should seek help from the agencies for action as per the law of the land. The law of the land prevails in India. If anyone has any doubt that some agency is doing it illegally, then he can complain and lawful action will be taken. We will now wait for Rahul Gandhi to deposit his phone for the investigation to proceed," Rathore said.
Speaking to reporters after participating in an opposition protest against the alleged Pegasus snooping in Parliament complex, Rahul said Israel has classified Pegasus as a weapon to fight terrorists but the Indian government has used it against national institutions, against the Supreme Court and to stop investigations into the Rafale deal. He said the then CBI director's phone was tapped when he was about to lodge an FIR on Rafale and he was blackmailed.
"Only the PM and the home minister can authorise the use of Pegasus," he said.
Rathore said Congress has manufactured the issue of snooping since it is determined to stall Parliament for one reason or another after being rejected twice by the people.
"We are well aware of his record in Parliament," the former Union minister said in a dig at Rahul over his frequent absence from the Lok Sabha, where he represents the Wayanad constituency.
He often goes abroad on vacation during monsoon sessions, Rathore said, adding that the former Congress chief is now not letting Parliament function for "manufactured" reasons.
Drawing a link between the alleged Pegasus snooping on the then CBI director and others related to Rafale deal, Rahul said it was clear that there was "gross theft" in the deal and it will finally come out that the PM was personally involved in corruption.
Claiming that he was not intimidated by these actions of the government, Rahul said, "If you are corrupt, then you will fear Modi, but if you are not corrupt, you will not fear Modi. You will only laugh."
AICC spokesman Pawan Khera alleged a connection between the "snooping scandal" and the steep jump in the budget of the National Security Council Secretariat. He said the grant went up from Rs 33 crore in 2017 to Rs 333 crore in 2018 with an additional head of Cyber Security Research and Development, noting the period coincides with the start of alleged snooping.

FacebookTwitterLinkedinEMail