NEW DELHI: An evaluation of 88 clusters, identified by central and state pollution control boards (CPCB and SPCBs) as
polluted industrial areas
, has thrown up a "bleak picture of air, water and land contamination" in the country, said the Centre for Science and Environment's (CSE) State of India's Environment report 2021, released on Thursday.
Referring to the CPCB's evaluation of these clusters on different green parameters, the report said Tarapur in Maharashtra had emerged as the most polluted industrial cluster in the country followed by Mathura (UP), Bulandshahr-Khurja (UP),
Moradabad
(UP), Vadodara (Gujarat), Najafgarh drain basin (Delhi), Kanpur (UP) and Varanasi-Mirzapur (UP) between 2009 and 2018.
Referring to the CPCB's Comprehensive Environmental Pollution Index (CEPI) that factored in air, water and soil contamination to arrive at an index at scale of 100, the report – annual publication of the CSE's Down to Earth – noted that 35 of 88 industrial clusters showed overall environmental degradation, 33 pointed to worsening air quality, 45 had water that was more polluted while 17 had land pollution that has become worse in 2018 compared to 2009.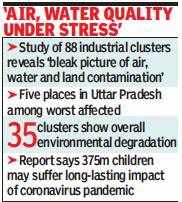 "The overall assessment is that our air and water quality is under stress. All trends show that pollution is increasing and this has massive impacts on our health. Even during the lockdown, data shows that river pollution did not reduce. Clearly, we need to do much more to improve the quality of the air we breathe and the water we drink," said Sunita Narain, director general of the CSE.
On air quality parameters, the report found that the CEPI air quality score went up from 52 in 2009 to over 85 out of 100 in 2018 in Delhi's Najafgarh drain basin whereas it went up from 48 in 2009 to 86 in 2018 in Mathura (UP). Similarly, Bulandshahr-Khurja area in UP nearly doubled its score and figured above 70 along with other clusters such as Gajraula (UP) and Siltara (Chhattisgarh). On the water quality front, Sanganer in Rajasthan and Gurugram in Haryana had the worst score in 2018 whereas Manali turned out to be the worst on land contamination parameters.
"It is a telling verdict. The CEPI data clearly indicates that there has been no action over the years to control and reduce pollution even in areas which were already identified as 'critically' or 'severely' polluted," said Nivit Kumar Yadav, programme director of the CSE's industrial pollution unit.
The report, which used publicly available data, also flagged India's dismal performance in terms of sustainable development, noting how the country is currently figured at 117th position among 192 nations in terms of sustainable development where it is now behind all South Asian nations except
Pakistan
.
"With respect to meeting the Sustainable Development Goals (SDGs), the five best performing states in India are Kerala, Himachal Pradesh, Andhra Pradesh,
Tamil Nadu
and
Telangana
. Going by the same parameter, the five worst performing states have been Bihar, Jharkhand, Arunachal Pradesh, Meghalaya and Uttar Pradesh," it said.
Underlining impact of Covid-19, the report said the country was all set to usher in a '
pandemic generation
' where 375 million children (from new-born to 14-year-olds) may suffer long-lasting impacts, ranging from being underweight, stunting and increased child mortality, to losses in education and work productivity. It noted that the pandemic also has its hidden victims -- over 500 million children forced out of school globally where India accounts for more than 50% of them.
Looking at lessons which India has learnt over the years and more specifically during the pandemic, Narain said, "The good news is that we are learning to do things differently. We are adopting technologies that will be affordable to large numbers and so sustainable. This is where the answer will be – in differently done sewage treatment, to mobility systems that will move people and not cars."