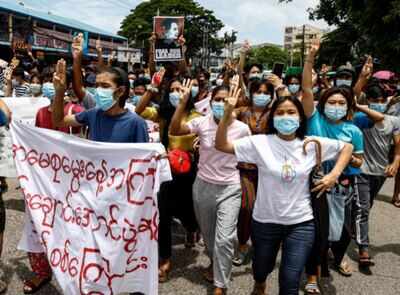 Protesters make the three-finger salute and hold posters of Myanmar's detained civilian leader Aung San Suu Kyi to mark her birthday as they take part in a demonstration against the military coup in Yangon on June 19 (AFP)
NEW DELHI: India joined China and Russia in abstaining from a vote on a UNGA resolution seeking to delegitimise the Myanmar military junta and to prevent flow of arms into the country. Justifying its decision to abstain, the government said the resolution, which was adopted with 119 votes in favour, was introduced hastily and without enough consultations with Myanmar's neighbours and regional countries.
India said the resolution, described by many as the strongest condemnation of Myanmar's military commanders since the coup, didn't reflect its views and that it didn't believe the resolution was going to aid the joint efforts towards strengthening the democratic process. "This resolution was tabled in the UN General Assembly without adequate consultations with neighbours and regional countries. This is not only unhelpful but may also prove counter-productive to the efforts of the Asean to find a solution to the current situation in Myanmar," India's permanent representative to the UN, TS Tirumurti, said.
India's neighbours like Nepal, Bangladesh and Bhutan were also among the 36 countries to abstain. In the explanation of the vote in the General Assembly hall, Tirumurti said as Myanmar's immediate neighbour and close friend of its people, India is cognisant of the "serious impact of political instability" and the potential of its spillover beyond Myanmar's borders. India has been calling for greater engagement with the objective of peacefully resolving all issues. "We already have such an ongoing initiative under the aegis of Asean. It is important that we extend support to the Asean efforts," Tirumurti said.
Mindful of Myanmar's ties with China and its own security interests in the northeast, India has walked the diplomatic tightrope on Myanmar since the military coup earlier this year. "During the discussions on this resolution, we had engaged in a spirit of finding a constructive and pragmatic way forward and had accordingly shared our suggestions to those who piloted this resolution," he said.
"However, we find that our views have not been reflected in the draft being considered for adoption today. We would like to reiterate that a consultative and constructive approach involving the neighbouring countries and the region remains important as the international community strives for the peaceful resolution of the issue," Tirumurti said.

FacebookTwitterLinkedinEMail