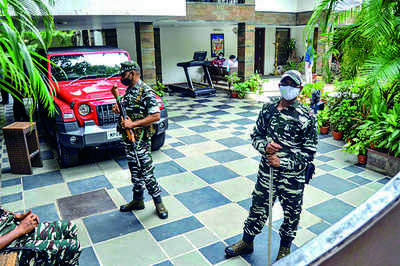 NEW DELHI: The searches by the income tax departmemt on Dainik Bhaskar group follow allegations of siphoning of funds by the group which has interests in media, power, textiles and real estate apart from the names of some members related to promoters cropping up in the Panama Papers, government sources said on Thursday.
The probe by the tax department has focused on allegations of tax evasion by the group by allegedly claiming bogus expenses and purchases using shell entities. Sources accused the group of having floated "paper companies" for the purpose, with employees as shareholders and directors of entities.
The money allegedly siphoned off is routed back into various personal and business investments, in the form of share premium and foreign investments through Mauritius-based entities. The searches triggered a massive controversy, with the issue taking a political colour and the government coming under attack from the opposition for "throttling" the media. The sources said the operation on 32 premises, comprising residential and business premises, followed an analysis of the tax department's database, banking and other inquiries.
Asked about Congress' allegation on the searches being politically motivated in response to Dainik Bhaskar's reportage on alleged under-reporting of Covid deaths, information and broadcasting minister Anurag Singh Thakur said: "Agencies are doing their own work and there is no interference in them." The searches, which began around 5.30am and went on till evening, were conducted at premises spread over Mumbai, Delhi, Bhopal, Indore, Jaipur, Korba, Noida and Ahmedabad. While the group, which has an annual turnover of over Rs 6,000 crore, has over 100 companies across its businesses, the tax department did not disclose if the focus was on certain specific businesses. DB Corp Ltd, which publishes Dainik Bhaskar, is the flagship company. The coal-based power generation business is carried in the name of DB Power.

FacebookTwitterLinkedinEMail