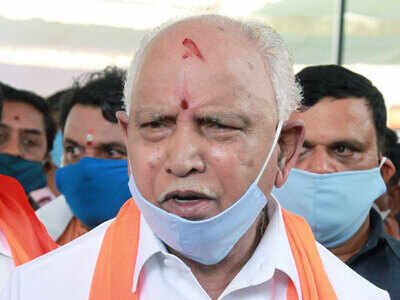 Karnataka chief minister BS Yediyurappa
NEW DELHI: Karnataka chief minister BS Yediyurappa holds a rare distinction in the BJP. At 77 years of age, he is the oldest among all the incumbent BJP chief ministers, party's office-bearers and Union ministers, going against the party's unwritten policy of retiring its leaders from active politics on attaining 75 years of age.
The TINA (there is no alternative) factor may be responsible for the Karnataka CM continuing on the chair. But other senior leaders - at least 14 - were not as lucky, and had to retire from active politics after Prime Minister Narendra Modi and home minister Amit Shah took reins of the government and the party respectively in 2014.
LK ADVANI
The veteran politician, who is one of the founding leaders of the BJP in 1980, successfully contested his seventh consecutive Lok Sabha election in 2014. Advani was 86 years old when he fought his last election from Gandhinagar in Gujarat.
However, after Modi became Prime Minister in 2014, Advani, former deputy prime minister, was not included in his cabinet. A new body - the 'Margdarshak Mandal' (guiding team) - was created in the BJP, and he was made part of that instead.
Advani, 92, was denied a ticket in the 2019 Lok Sabha election. Before the novel coronavirus outbreak, he was seen occasionally at some of the government and BJP programmes.
MURLI MANOHAR JOSHI
Like Advani, Joshi was also one of the founding members of the BJP. He too contested his last Lok Sabha election in 2014, from Kanpur. An MP from Varanasi, he vacated his seat for Modi who contested his first Lok Sabha election from the ancient temple town.
Again like Advani, Joshi was not included in Modi's first council of ministers. He was instead "elevated" and included in the Margdarshak Mandal.
Joshi, 86, did not contest the 2019 Lok Sabha election.
SHANTA KUMAR
Former Union minister in the Atal Bihari Vajpayee cabinet and former Himachal Pradesh CM, Shanta Kumar also contested his last election in 2014 from Kangra.
In 2019, Kumar, 85, was kept out of Modi ministry. However, he has mostly remained a "disciplined soldier" of the BJP.
JASWANT SINGH
A former Union minister in the Vajpayee government, Jaswant Singh was denied a ticket in the 2014 Lok Sabha election.
Unlike his colleagues, Singh, 82, chose to rebel against the party. He contested as an independent candidate from Barmer in Rajasthan and lost to the BJP candidate. He was expelled from the party.
Jaswant Singh suffered a head injury in August 2014. He has been in a coma since then.
YASHWANT SINHA
Like Jaswant Singh, Yashwant Sinha was also denied a ticket from his traditional Hazaribagh constituency in Jharkhand in 2014. Sinha, 82, was a Union minister in the Vajpayee government.
The BJP instead fielded his son Jayant Sinha from Hazaribagh in the 2014 Lok Sabha election. Jayant Sinha won the election and was made as a Union minister in the Modi government.
Yashwant Sinha became a vociferous critic of the Modi government before quitting the party in 2018.
He spoke against the unspoken rule of the BJP over the age criterion. Taking a dig the party, on May 26, 2014, he even said all those who are above the age of 75 were declared brain dead. It was the day the BJP-led NDA government was sworn in at the centre.
NAJMA HEPTULLA
The former deputy chairperson of the Rajya Sabha, Najma Heptulla was included in the 2014 Modi ministry and held the minority affairs ministry.
Born on April 13, 1940, she was replaced by Mukhtar Abbas Naqvi in July 2016 at the age of 76 years. She was made Manipur governor.
KALRAJ MISHRA
Much like Najma Heptulla, Kalraj Mishra, 78, was dropped as Union micro, small and medium (MSME) minister in 2017, upon crossing the 75-year limit
He was made the Rajasthan governor in July 2019.
LALJI TANDON
A veteran BJP leader from Uttar Pradesh, Lalji Tandon contested his last Lok Sabha election in 2009 from Lucknow, the seat vacated by former prime minister Atal Bihari Vajpayee.
Tandon, 85, defeated the then Congress candidate Rita Bahuguna Joshi.
He was 79 at the time of the 2014 Lok Sabha election and did not get a ticket to fight that year's election. He was made the Bihar governor in 2018 and shifted as Madhya Pradesh governor in 2019, replacing Anandiben Patel.
SUMITRA MAHAJAN
The former Lok Sabha speaker from 2014-2019, Sumitra Mahajan was not given a ticket in the 2019 Lok Sabha election.
She won eight consecutive Lok Sabha elections from the same seat of Indore in Madhya Pradesh since 1989.
Born on April 12, 1943, Sumitra Mahajan turned 75 in 2018.
KALYAN SINGH
Former CM of Uttar Pradesh, Kalyan Singh, 88, was Lok Sabha MP from Etah from 2009 to 2014.
At 82 years of age, he was made the governor of Rajasthan in 2014. He completed his full term at the gubernatorial post till 2019.
BHAGAT SINGH KOSHIYARI
Senior leader from Uttarakhand, Bhagat Singh Koshiyari, was Lok Sabha MP from Nainital between 2014 and 2019. He was 72 when he contested the 2014 general election.
Koshiyari, 77, became Maharashtra governor in September 2019.
CP THAKUR
CP Thakur, 88, was Rajya Sabha MP from Bihar from 2014 to April this year.
Instead of being renominated to the Rajya Sabha, the BJP chose his son Vivek Thakur to succeed him in the Upper House in the election held a few weeks ago.
ANANDIBEN PATEL
Anandiben Patel, 78, succeeded Narendra Modi as the Gujarat CM after the latter moved to the centre as Prime Minister in 2014.
About three months before she turned 75, she was replaced by Vijay Rupani as the Gujarat CM in August 2016, amidst unrest in the coastal state over the demand for reservation by the Patidars.
Patel was appointed as the Madhya Pradesh governor in January 2018 and was shifted to neighbouring Uttar Pradesh in the same capacity in July 2019.
VAJUBHAI VALA
Born on January 13, 1939, Vajubhai Bala contested his last assembly election from Rajkot in Gujarat in 2012 at the age of 73.
Between January 23, 2012 and August 31, 2014, he held the post of speaker of the Gujarat assembly.
On September 1, 2014, he was appointed as the Karnataka governor, a post which he holds till date.