NEW DELHI: After the central leadership completely owned the Punjab restructuring and felt it had settled the chaotic unit, the surprise resignation by state president Navjot Singh Sidhu caught everyone by surprise and threatened to destabilise its stronghold and cast the Gandhi leadership in poor light.
No one in the central leadership saw it coming, as senior leaders were praising Sidhu as a "popular" person who would be the "joint" party face in the coming elections with CM Charanjit Singh Channi. That Sidhu posted his resignation on social media despite the supposed proximity with the Gandhi siblings, particularly Priyanka Gandhi Vadra, suggested that they were not intimated in advance.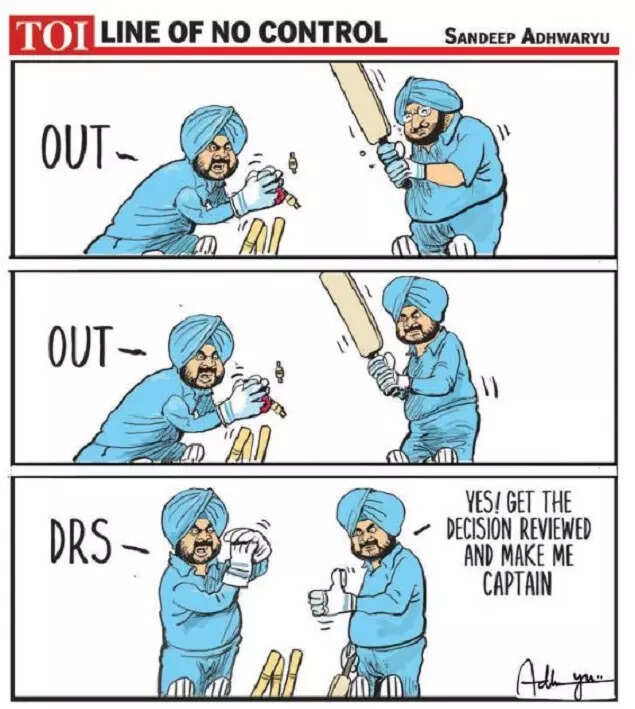 It was largely at the instance of Sidhu that the party moved along the path of rejigging the state unit and ousting satrap Amarinder Singh as chief minister — going to the extent of calling a legislature party meeting without informing him. This, after having made the cricketer-turned-politician the state unit chief despite opposition from within. Amid the drama, party MPs were livid that they were not heard over the changes made in the state unit earlier.
The day's events, with Sidhu suggesting he is quitting as he would not "compromise" on certain decisions, has landed the Gandhis in an embarrassing situation just when they are overseeing the nitty-gritty of reorganisation across states as well as in the central leadership. It only gives further ballast to former Goa CM Luizinho Faleirio's claim as he joined Trinamool that there is no will to halt the slide.
There was no dearth of taunts and chuckles as Congress stood red-faced. Amarinder tweeted: "I told you so... he is not a stable man and not fit for the border state of Punjab." G-23 member and MP Manish Tewari tweeted a Punjabi song which is advice to not befriend fickle young girls "who become friends easily but are as quick to sulk".
It was seen as a lament that the leadership had ignored the views of 10 MPs to not make an "erratic" Sidhu the state chief. Vibhakar Shastri, grandson of late PM Lal Bahadur Shastri, asked the party to not give outsiders any important post at least five years from joining. Rahul Gandhi aide Nikhil Alva said,"The Punjab Congress is living proof of the maxim that reality is stranger than fiction."
Congress general secretary K C Venugopal called Sidhu's resignation an "emotional reaction". He said, "Everything will be okay."
All eyes are now on whether Congress can find a solution to this tricky problem. If Sidhu walks out of Congress, it will be an ominous sign for the party, many believe.