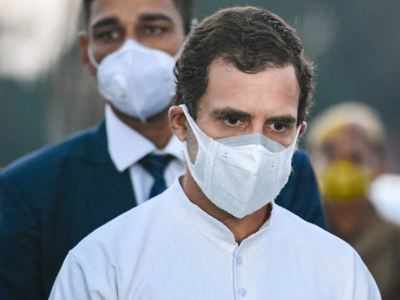 NEW DELHI: Intensifying attack on Congress for questioning the DCGI's approval to Covid vaccines, BJP on Monday said Rahul Gandhi, while on a vacation abroad, choreographed rumour-mongering by enlisting his colleagues Jairam Ramesh and Shashi Tharoor to create confusion among the people.
At a press conference, BJP spokesperson Sambit Patra said Congress is questioning the vaccine though it has been certified by the Indian Council of Medical research (ICMR) and Central Drug Standard Control Organisation. International organisations have lauded India's efforts and other countries have shown interest in the Indian vaccines, he said.
"While Rahul Gandhi has been vacationing abroad, he has been prompting his party leaders to engage in rumour-mongering about the vaccines," Patra said referring to statements of Shashi Tharoor and Jairam Ramesh, both of whom had questioned the verification process for Bharat Biotech's vaccine Covaxin.
He said that Congress members are creating confusion at a time when international organisations have lauded India's efforts and other countries have even shown interest in Indian vaccines. "Scientific bodies like ICMR, CDSO have approved the vaccine, but we have Nobel laureates Rahul Gandhi, Akhilesh Yadav, Tharoor and Ramesh questioning the achievement," he said.
The BJP spokesperson alleged that the opposition's attack on the vaccine could help "foreign forces, alleging that they do not want India to be self-reliant."
"The rumours being spread will benefit foreign forces. This will benefit outsiders. Who will it harm? It will harm our country, the strength of our scientists and their self-confidence. Why do Congress and these opposition parties want to break our scientists' strength and self-confidence?" Patra questioned. He said that nothing could be more painful than politics being done on the issue.
"Apart from the virus, it is only Congress which is feeling troubled. The attack on the vaccine is only the latest mutation of the syndrome which leads them to question the success of the Indian Army and the Air Force against Pakistan, and bodies like the Supreme Court and the Election Commission," the BJP spokesperson said.
He also hit out at Samajwadi Party chief Akhilesh Yadav, who had dubbed the vaccines as "BJP's vaccines". "The vaccines were developed for public welfare. People from abroad are ordering vaccines from India and some of the Indian people are raising doubts. What kind of irresponsible behaviour is this? Both Rahul and Akhilesh are same," Patra said.
PM should take first shot: Congress neta
Bihar Congress legislature party leader Ajit Sharma on Monday advised PM Modi and senior BJP members to take the shot first to gain people's confidence, reports Sheezan Nezami. He said there was confusion among people over the two vaccines that have been approved in India. "In order to remove this doubt.... I believe PM Modi should win the trust of the people by taking the first vaccine shot," he said. He also claimed that the heads of state of Russia and the US had taken the vaccine.
Others first, I'll take it later, says Shivraj
Madhya Pradesh CM Shivraj Singh Chouhan has said that priority groups should get the Covid vaccine first. "I have decided that I will not get vaccinated for now. First, it should be administered to others. My turn should come later. We have to work to ensure that priority groups are administered the vaccine," the CM said on Monday. "Vaccination arrangements for #Covid-19 have been made by all districts. We have to mobilise for the priority groups to get vaccinated," he posted on Twitter. BJP hailed Chouhan's gesture.

FacebookTwitterLinkedinEMail