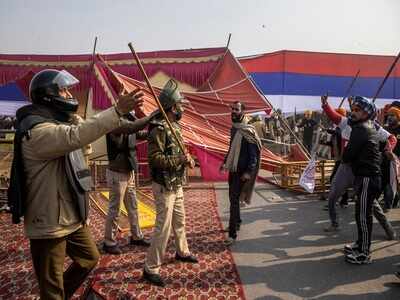 NEW DELHI: While there was no official statement from BJP, several party leaders reacted angrily to the violent protests by farmers in the national Capital even as they maintained that the violence had showed that farm leaders had no control over their followers and that they were acting as "puppets" of opposition parties.
BJP leaders said the government trusted the assurance given by farmers that the tractor rally would be on specified routes, trolleys would not be taken out and that they would be unarmed.
"The protesting farmers have violated all promises they made to the government, which shows the ulterior motive of the farmers, who are working on the directions of a desperate opposition," a senior BJP functionary said.
The leader said Delhi Police had showed utmost restraint even as they were beaten otherwise things could have been far worse.
"BJP has maintained right from the beginning that it is committed to the welfare of farmers. However, the way Red Fort was desecrated, the whole nation has watched it and there is nothing left to say about the hidden agenda of the farm union leaders, who are acting as per the dictation of opposition parties," the BJP leader said.
"Common farmers should understand that the ongoing agitation is the handiwork of a few middlemen, who are fearing that the hefty money they were fleecing from farmers will come to an end," he added.
"While we are saluting the national flag, some elements supported by so-called 'progressives' are relishing insulting the same, and remember in the name of Constitution," BJP Rajya Sabha MP Vinay Sahasrabuddhe tweeted.
"Can farmers of the country do what was witnessed in Delhi today?" asked party general secretary Kailash Vijayvargiya.
BJP spokesperson Sudhanshu Trivedi recalled sacrifices made by several icons of the country to protect and preserve freedom and sovereignty of the nation, which was attacked by a group of "shameless" vandals. "Those being perceived as 'annadata' have turned out to be terrorists. Don't defame our farmers and terrorists must be called terrorists," he added.
Lok Sabha MP Nishikant Dubey equated the farm leaders with Hurriyat leaders and demanded that farmers chiefs like Yogendra Yadav, Rakesh Tikait and Hannan Mollah be booked on charges of sedition.

FacebookTwitterLinkedinEMail