Social networking tech giant
Facebook
is testing a new feature for its
Messenger app
for additional security, according to a report baby Engadget. The feature adds biometric authentication tool to the app that gives its users the option to add face unlock support or fingerprint sensor support in order to access their messages.
The feature works similar to the authentication feature present on another Facebook-owned app
WhatsApp
. As per the screenshot in the report, users will be able to select the time internal after which the app will require users to authenticate just as it is in the case with WhatsApp. Users will get four options — 'After I leave Messenger,' '1 minute after leaving,' '15 minutes after leaving,' and '1 hour after leaving.'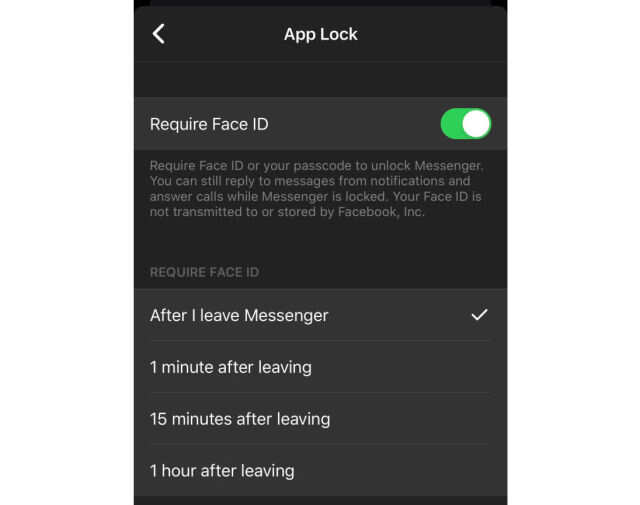 As per the report, a Facebook spokesperson has confirmed that this feature is being developed for Messenger app and is right now in the testing phase for a small percentage of Messenger users on
iOS
and will eventually make its way to Android as well. "We want to give people more choices and controls to protect their private messages, and recently, we began testing a feature that lets you unlock the Messenger app using your device's settings. It's an added layer of privacy to prevent someone else from accessing your messages," said the company's spokesperson.
As mentioned, the feature will work similar to the authentication feature for WhatsApp, which incidentally was also rolled out to iOS users first and then to Android users. On WhatsApp, users get three options as to when the app requires the authentication which are 'immediately,' 'after 1 minute,' 'after 30 minutes.'
Just last month, the company added new features to warn against scams. The platform has added 'safety notices' that are said to popup in a chat whenever a suspicious activity is spotted. Also, it will even inform people on ways to spot scams or imposters so that they can take appropriate action to avoid such an incident.