Marking World Water Day, PM Modi on March 22 announced the Ken-Betwa link project during the launch of 'catch ...Read More
NEW DELHI: India's first river interlinking project, connecting the Ken and Betwa rivers in Madhya Pradesh and Uttar Pradesh, is finally set to be implemented.
After resolving their differences over sharing of water, the chief ministers of the two states, Shivraj Singh Chouhan and Yogi Adityanath, on March 22 signed a tripartite agreement with the Centre.
Speaking on the occasion, Prime Minister Narendra Modi said the agreement was important to realise former Prime Minister Atal Bihari Vajpayee's dream in the interest of millions of families in UP and MP.
He added that the vision of India's development and self-reliance is dependent on water resources and connectivity.
What is the Ken-Betwa link project
It is the first-ever river interlinking project under the National Perspective Plan and aims to link
Ken river
in Madhya Pradesh to
Betwa river
in Uttar Pradesh. Both Ken and Betwa are tributaries of the Yamuna river.
The project will be completed in two phases. In the first phase, the Daudhan dam complex and its appurtenances such as low-level tunnel, high-level tunnel, Ken-Betwa link canal and powerhouses will be completed.
MoA for Ken Betwa Link Project https://t.co/piMgxFmM9E
— Central Water Commission (@CWCOfficial_GoI) 1616417938000
Under the second phase, lower Orr dam, Bina complex project and Kotha barrage — will be constructed.
What is the cost, how long will it take
The Ken-Betwa link project will be implemented at an estimated cost of more than Rs 37,600 crore.
The Centre will create a special purpose vehicle, the Ken-Betwa Link Project Authority, for implementation of the project in eight years and will bear 90 per cent of the total cost.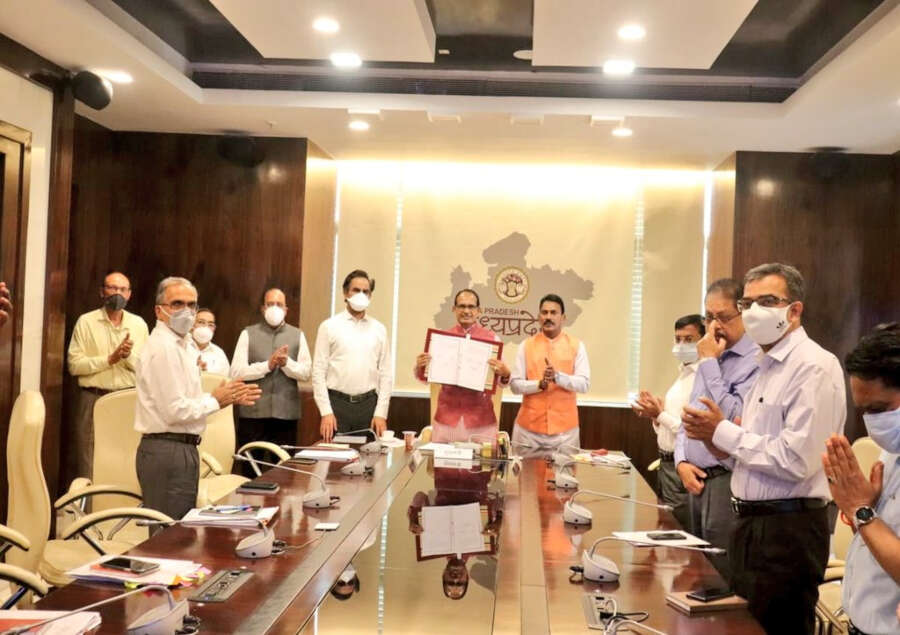 Madhya Pradesh CM Shivraj Singh Chauhan with cabinet members on signing of Ken-Betwa link project.
Who will benefit from Ken-Betwa project
Thirteen districts across the water-starved Bundelkhand region will benefit from the river interlinking project.
In Madhya Pradesh, Panna, Tikamgarh, Chhatarpur, Sagar, Damoh, Datia, Vidisha, Shivpuri and Raisen districts will benefit.
सिंचाई सुविधा बढ़ने के साथ बुंदेलखण्ड के 41 लाख लोगों को पीने का शुद्ध पेयजल मिलेगा। अब बुंदेलखण्ड की उपजाऊ धरा… https://t.co/0OQjHPscT1
— Shivraj Singh Chouhan (@ChouhanShivraj) 1616408996000
While in Uttar Pradesh, Banda, Mahoba, Jhansi and Lalitpur districts will get the advantage.
What are the benefits
The project will provide annual irrigation of 10.6 lakh hectares of land i.e. 1 lakh hectare in Madhya Pradesh and 2.5 lakh hectare in Uttar Pradesh.
This is a monumental moment for India as Shri Yogi Adityanath, Hon'ble CM, Uttar Pradesh, and Shri Shivraj Singh Ch… https://t.co/vCxa2HspLq
— Ministry of Jal Shakti #StayHome 🏘️#StaySafe (@MoJSDoWRRDGR) 1616408049000
It will provide a drinking water supply to a population of about 62 lakh i.e. 41 lakh in Madhya Pradesh and 21 lakh in Uttar Pradesh.
The project will also generate 103 MW of hydro power generation and 27 MW of solar power generation.
Two states meet halfway on the deal
The revised deal signed on March 22 will allow Madhya Pradesh to get additional water from the project. The dispute between the states could be settled after Uttar Pradesh agreed to drop its demand for a higher share.
'केन-बेतवा लिंक परियोजना' हेतु उत्तर प्रदेश, मध्य प्रदेश एवं केंद्र की सरकार के बीच समझौता हो गया है।आदरणीय प्रधा… https://t.co/X2EWOvD9dj
— Yogi Adityanath (@myogiadityanath) 1616409821000
Even Madhya Pradesh has had to compromise.
The Centre did not agree to its demand to allow it to use the entire quantum of surplus water at the Daudhan dam site in the upper catchment area. The dam is one of the key components of the project.
Water-sharing deal between Madhya Pradesh & Uttar Pradesh
The annual gross yield in the Ken basin up to Daudhan Dam in a normal year will be 6,590 million cubic metre (MCM). While Madhya Pradesh will utilize 2,350 MCM, Uttar Pradesh will be allowed to utilize 1,700 MCM.
Release of water from Daudhan Dam reservoir during the non-monsoon period (November to May) will be 1,834 MCM to Madhya Pradesh and 750 MCM to Uttar Pradesh.