NEW DELHI: Covid numbers in Kerala have remained persistently high for several weeks. Now, the situation is turning grimmer.
On Saturday, Kerala reported 18,531 fresh Covid infections and 98 more deaths. The daily case count is nearly 42% of the second wave peak (43,529) which came almost two months ago.
Since hitting 10,000 cases for the first time during the second wave on April 16, daily infections in Kerala have dipped below the five-figure mark just seven times. This is the leading reason why Covid cases in India continue to hover near the 40,000-mark.
Kerala the new Maharashtra?
Compared to the national Covid trend, Kerala is the only major state that is reporting a rise in daily infections. This is an ominous sign for a country that witnessed large-scale devastation just months ago when the second wave barrelled through the states.
In the lead up to the second wave, only Maharashtra was witnessing a steady surge in cases. By March-end/early April, it accounted for nearly 60% of all Covid infections in India.
Similarly, Kerala is now consistently making up nearly 40% of new cases being reported every day.
If the cases continue to swell, Kerala could may end up igniting the next surge.
The state already has a high volume of active infections due to its heavy caseload.
As of July 24, Kerala has over 1.3 lakh patients with Covid-19, comprising nearly 1/3rd of all active cases in India.
Several districts leading surge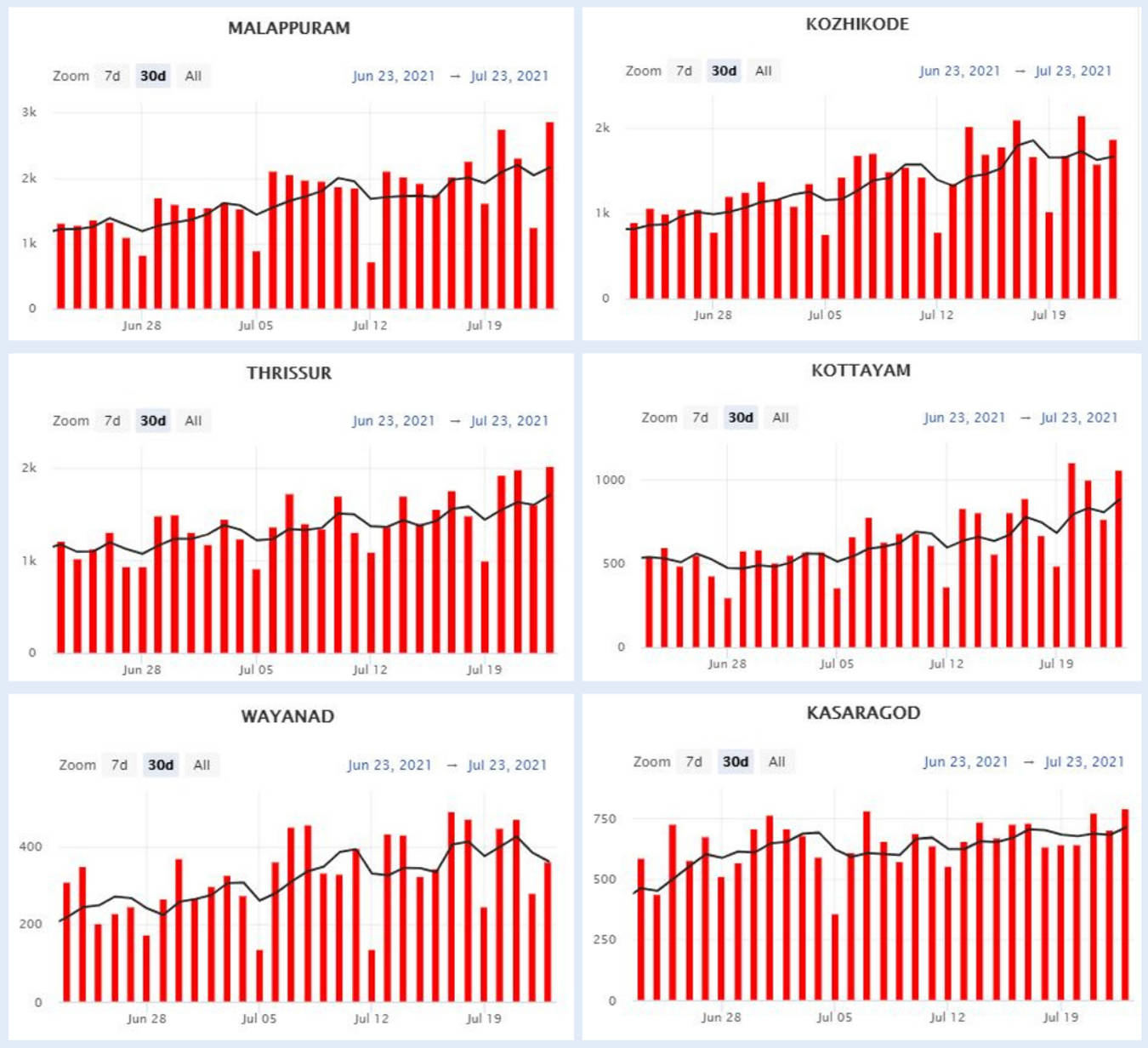 Save a couple, cases in all districts of Kerala are either rising rapidly or not falling at an expected pace.
A close look shows that places like Malappuram, Kozhikode, Thrissur, Kottayam, Wayanad and Kasargod have been witnessing a steady surge in infections in the last 30 days.
This is despite the fact that Kerala is among the fastest vaccinating states in the country. Over 14.7% of the state's population is fully vaccinated against the virus. But for now, it appears the spread of Covid is outpacing the rate of vaccination.
More worrying signs
Kerala is the only major state in India which is reporting a test positivity rate (TPR) higher than 10%.
The TPR had crossed 11 per cent on July 19 after remaining below it for several weeks and had reached 13.63 per cent on July 23.
According to the state health department, over 626 areas in Kerala have a TPR of more than 10 per cent.
TPR — which is the proportion of positive cases out of the total samples tested — indicates the prevalence of Covid in a region. The World Health Organization recommends that it should be below 5%.
Anything over 10% indicates that more testing needs to be done as the pathogen is spread widely in the community. Kerala's high TPR suggests that the Covid situation in the state is expected to remain a cause for concern in the coming days.
(With inputs from agencies)