Anand Teltumbde was one of the convenors of "Bhima Koregaon Shaurya Din Prerna Abhiyan," the chargesheet said
Less than nine months after it took over the probe into the
Elgar Parishad
case, the National Investigation Agency has filed a chargesheet claiming that the violence at Bhima Koregaon was part of a CPI (Maoist) strategy using its "urban network" and frontal organisations. It said the banned terrorist outfit aimed to incite people against the elected government and gather information on the movement of security forces to inflict damage on the state.
The 10,000-page supplementary chargesheet mentions a "systematic network of Maoists operating for supply of arms and ammunitions", with links to banned outfits in India and abroad. The chargesheet named lawyer and activist Gautam Navlakha; academician Anand Teltumbde; DU associate professor Hany Babu; cultural group Kabir Kala Manch members Sagar Gorkhe, Ramesh Gaichor and Jyoti Jagta; Jesuit priest
Stan Swamy
and Milind Teltumbde.
Barring Milind, alleged to be a top operative of CPI (Maoist), all are in custody. Stan Swamy, 83, was the last to be picked on Thursday. This is the first chargesheet by the NIA after it took over the probe from Pune police in January. Pune police had submitted two chargesheets in 2018 and 2019.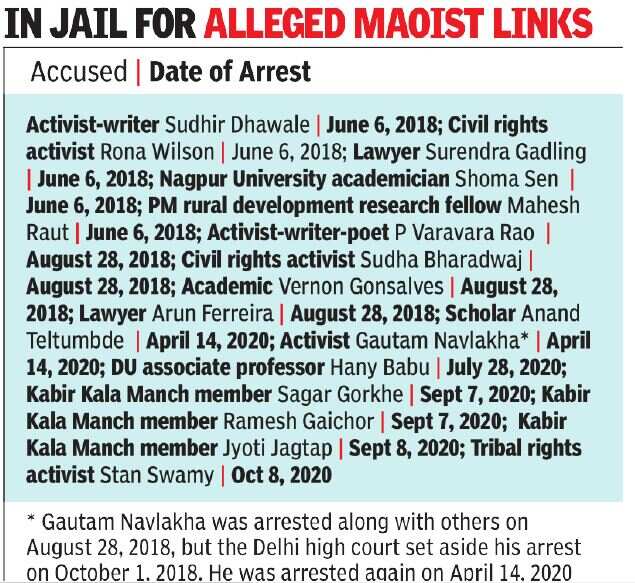 These individuals were named during investigations, but barring Milind Teltumbde, none had been charged. Sixteen people are in jail, nine of them for more than two years, for a case linked to the caste clashes that broke out at Bhima Koregaon on January 1, 2018.
The NIA said its investigation revealed that the accused conspired to further the ideology of the CPI (Maoist) and abetted violence, incited disaffection towards the government and promoted enmity between groups on grounds of religion, caste and community. Milind also organised camps for imparting weapons training to other accused. NIA claims the active role of Navlakha — the most high-profile accused — came up in the 10,000 pages of secret communications with CPI (Maoist) cadres recovered during the probe. The NIA said Navlakha was recruiting cadres for the CPI (Maoist).
DU professor Hany Babu, said the agency, was instrumental in organising visits of foreign journalists to CPI (Maoist)-controlled areas and was assigned responsibility of the Revolutionary Democratic Front, a banned outfit in Andhra Pradesh and Telangana. It said he was in contact with terror outfit Kanglepak Communist Party of Manipur and was making efforts for the release of convicted accused G N Saibaba on the directions of the CPI (Maoist).
Sagar Gorkhe, Ramesh Gaichor & Jyoti Jagtap, as per the chargesheet, have undergone weapons training by CPI (Maoist) cadres. They are also members of Kabir Kala Manch, a frontal organisation of CPI (Maoist), and attended meetings for the organisation of the Elgar Parishad programme, it said. "Stan Swamy propagated among cadres that the arrest of urban CPI (Maoist) cadres from different parts of the country has caused irrevocable damage to CPI (Maoist)," said NIA. Swamy allegedly received funds from Maoist cadres to further the activities of CPI (Maoist), it said, adding that he is a convenor of the PPSC, a frontal organisation of CPI (Maoist).
Anand Teltumbde was one of the convenors of "Bhima Koregaon Shaurya Din Prerna Abhiyan" and was present at Shaniwar Wada on December 31, 2017. The chargesheet says the Elgar Parishad at Shaniwar Wada in Pune was funded by CPI (Maoist) to create unrest and overthrow the government. The NIA alleged that provocative speeches by Kabir Kala Manch activists promoted enmity between caste groups and led to the clashes at Bhima Koregaon.