NEW DELHI: The toll due to Covid-19 in Delhi mounted to 1,837 on Tuesday with the state health department reporting as many as 437 deaths.
Of this, the department said, 93 deaths took place in the last 24 hours while the rest took place earlier and they were reported on Tuesday following perusal of the case summaries by the death audit committee.
"This cumulative figure includes all pending deaths reported to and audited by the death audit committee," the department said in its health bulletin.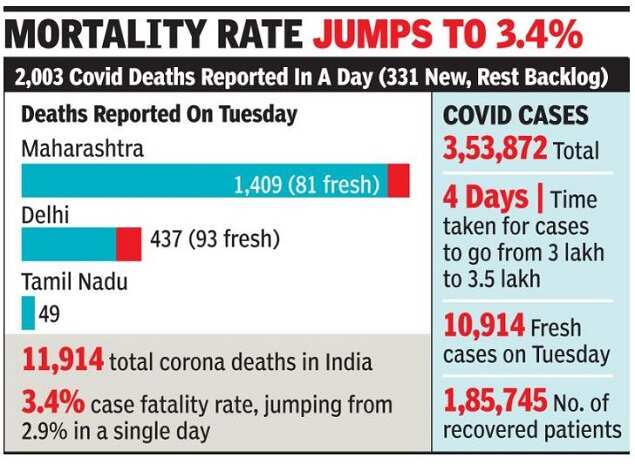 With 1,837 fatalities, Delhi has the maximum number of deaths due to the novel coronavirus in the country after Maharashtra (5,537). Gujarat is third with 1,534 deaths.
Delhi's total tally of Covid-19 cases is 44,688, including 1,859 new ones. Of the total cases, 5,469 are admitted in various hospitals. Officials said 802 require ICU support and 215 patients are on ventilators. "The number of people requiring ICU support is going up with rise in infection cases. If the cases continue to rise like this, the existing infrastructure may fall short of the need," said a senior doctor. He added that lockdown measures may require to be put in place strictly in areas with a high number of cases for contact tracing and limiting disease spread.
Delhi reported its first fatality due to Covid-19 in March. That month witnessed one more death. In April and May, 57 and 414 deaths were reported, respectively. In June, 1,314 deaths have been confirmed till now.
Some of the deaths took place in the previous months but they were made official only recently as the hospitals concerned failed to share case summaries of the deceased on time, the officials said.
The incidence of Covid-19 has also gone up significantly, with over 1,000 new cases being reportedly since May 28, except on June 1. Between June 12 and June 14, the daily went up to above 2,000 new cases daily. Tuesday's tally of 1,859 is less but epidemiologists say it is likely that the cases may go up again as more people are tested for the disease. "Covid-19 transmission is taking place in communities in many localities. The government concedes that contact tracing is getting difficult," an official said.
Recently, the Centre and the state held a high-level meeting to tackle the crisis in the national capital where it was decided that testing numbers will be increased to over 10,000 daily. Currently, this figure stands at around 7,500.